Being an employee, you could go through any medical or domestic mishap requiring you to take leaves from work. This could be a family emergency, an accident or you simply need a break. Nonetheless, things require decorum when it comes to working.
Every company has a different approach and perspective when it comes to leaves, both paid and unpaid. To maintain your status as an employee, you have to abide by the company laws. However, sometimes employees cannot make it to the office on time and this ends up in the loss of the company.
This is when the employer has to take charge of the matter and act legally. An employer should be knowledgeable of all of the work schedule and routine of his employees. He should have a straight-up record of the leaves the workers have taken already.
If a worker, in an unfortunate event, has taken leaves and has not returned to work without further notifying his/her employer, being a boss you should take it as a threat to the company's environmental health and take immediate action by writing a letter to the employee.
The tone of your letter, however, should not be threatening rather polite and firm. You should begin by mentioning his/her leave approval record and how he/she has already enjoyed the provided leniency. You can also write down the company's policy for paid and unpaid leaves.
End your letter with the consequences your worker may face in case of further delay in notifying the company and request him to return to work. If doable, you can also offer the switch of position or work schedule you have available to accommodate your employee.
Sample Letter
Date
Dear Max,
Subject: Request of return to work
It has been 10-days since you came to work. You did not bother to acquaint your employer with your potential leaves. When I last spoke to you 7-days ago about your unnotified absentees from your work, you promised to show up in 2 days and you did not fulfill it.
As you are already aware of the company's leave policies, you have a total of 10 paid leaves and 5 unpaid ones. Therefore, you are left with only 3-unpaid leaves now. Moreover, the company has a strict policy about taking leaves without informing the office. If you want to keep your status as an employee, please revert to the manager's office by Monday.
In case you have a serious medical restriction, please adhere to the professional way of applying leaves with relevant documents attached to your specifications mentioned. We are open to changing your work schedule and position as per the availability.
If we do not hear back from you till Monday, we are afraid you will no longer serve as [employee's designation] as your contract will be terminated.
Please feel free to contact me at [X] during office timings.
Sincerely,
Joe Paul,
Director
Company's name

Signature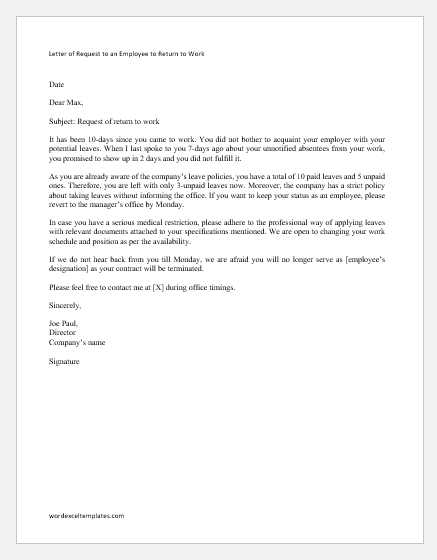 File: Word (.docx) 2007+ and iPad
Size 19 Kb
Download
---