It is obvious that every employee wants to increment especially when he/she is working for a long time. The companies look for the salary raise when the employee is performing great but there are some organizations that don't care for the employees or, which are not in a condition to give the favor of increment.
There are companies that provide the increment letter to the employees when the new year starts. If there is any company that doesn't provide it then the employee can write a letter requesting the raise in salary. It is the right of the employee to get a raise when he/she is giving excellent service and the company has no complaints against him/her.
Points to consider for letter writing:
The employee should keep the things clear, he/she should never confuse the great performance with the complaints.
The letter should be written in requesting language and it should sound polite.
The letter should never contain any complaint because the purpose is to write for the increment. Complaints in the letter give a negative impression.
The employee should never forget to mention about the punctuality and meeting the deadline as it is the plus point for feeling sad when not getting a raise after hard work.
It is important to show how loyal you are with the company, so the higher management investigates the case and grants the salary raise.
Never sound rude in the letter as it can be a reason of anger for the manager.
Sample for grievance letter for not getting increment:
Date:
Name:
Dear,
I have been serving in the company for the past three years and I am working wholeheartedly for the organization. I am punctual, my attendance is excellent and I always complete the task before the deadline. My immediate boss is satisfied with my performance and I deal with my colleagues in a good way to keep the office environment relaxing and peaceful.
The main concern of writing this letter is I am giving my services at a low salary and I got the salary raise two years ago. I wanted the company to grow and I liked to be a part of this organization that's why I never insisted on raising the salary. I had requested the increment but I didn't get a positive response which made me worried. I have done so much for the company and worked dedicatedly but all in vain.
I got offers from other organizations and they were offering me a higher salary package with additional benefits but I refused because I want your business to flourish. I requested the increment to fulfill the basic demands of the family and I am sad that the company didn't investigate the case and refuse the raise.
It would be great if you resolve the concern. Waiting for a positive response from you!
Sincerely,
(Employee name)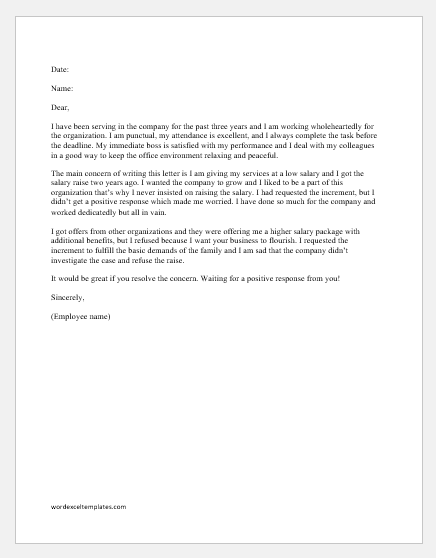 File: Word (.docx) 2007+ and iPad Size 21 Kb |
Download
---