Everything needs proper maintenance if you want to increase its lifespan. Your vehicle may be the most expensive asset that you don't want to lose early. In order to increase the life span of the vehicle and make it get fewer visits to the service station, you should do the necessary steps to ensure its maintenance.
The best tool that can be used for proper maintenance of the vehicle is the vehicle maintenance checklist. Series of things to be done for proper maintenance of the vehicle is included in this checklist.
Your vehicle requires regular maintenance in order to increase its life and efficiency. Failure to do so may result in expensive repairs and other problems for it. One of the most important tools to stay informed about your vehicle maintenance process is to have a vehicle maintenance checklist.
A vehicle maintenance checklist is a perfect and handy tool for the owners who want to assess the repair needs of their vehicles after every short while. This helps them in maintaining an accurate account of their vehicle needs. 
This unique template designed by professionals allows owners to check the list of tasks related to vehicle maintenance and work on them according to the priorities set on the checklist.
This is a great way to save a large sum of money as you get to finish up tasks mentioned on the checklist regularly to stay organized on your vehicle repair needs.
Most of the vehicle owners usually neglect many of its aspects that become a serious issue in the future. For instance, the engine is the heart of the vehicle. We often leave the engine work for tomorrow until the time when it breaks up completely costing a considerable amount from our hard earned cash. This is exactly the time when a vehicle maintenance checklist comes real handy.
It helps us focus on all the important tasks related to our vehicle such as:
Inspection of damaged spare parts
Having a repair kit especially when you go out on long trips.
As a matter of fact, the process of maintenance requires the owner of the vehicle to be smart enough to assess the repair needs of the vehicle. It should be kept in mind that every vehicle needs maintenance after a specific period of time.
A rough estimate of repair needs can be made, however, in order to accurate, you should get a vehicle maintenance checklist.
Vehicle Periodic Maintenance Schedule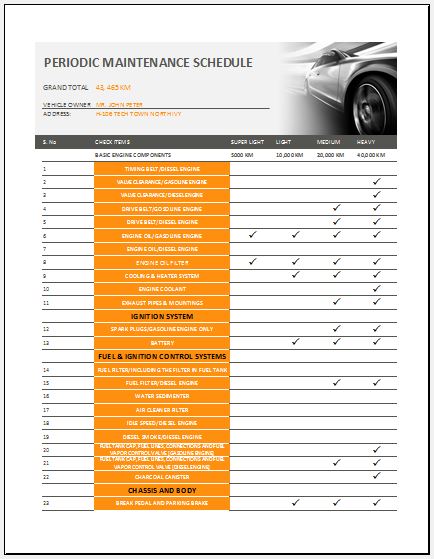 File:Excel (.xls) 2003+ and iPad Size 28 Kb |
Download
File: OpenOffice (.ods) Spreadsheet [Calc] Size 17 Kb |
Download
License: ENERGY  (Personal use only)
(Distribution) by Kate Elizabeth(CEO)
---
What is vehicle maintenance checklist?
This checklist is a document that contains the list of tasks to be done in order to know whether the vehicle needs repair or not. This list is designed by professional people who know about the indicators to be noticed in order to assess repair needs.
The checklist arranges the tasks to be performed. The things to be done on priority basis are given on the top of the checklist. This checklist is a great tool for the people who want to stay organised in fulfilling the repair needs.
Vehicle maintenance checklist template:
Many people don't have any idea about the ways to provide maintenance of the vehicle. They also can't guess when their vehicle needs maintenance. Vehicle maintenance checklist template is designed purely for such people. The purpose of this template is to provide complete assistance with which the user can perform the maintenance of the vehicle.
Since this checklist is a general vehicle checklist, it includes the general tasks to be performed. This template is a great tool for all those inexpert people who want to take care of their vehicle but don't know to how.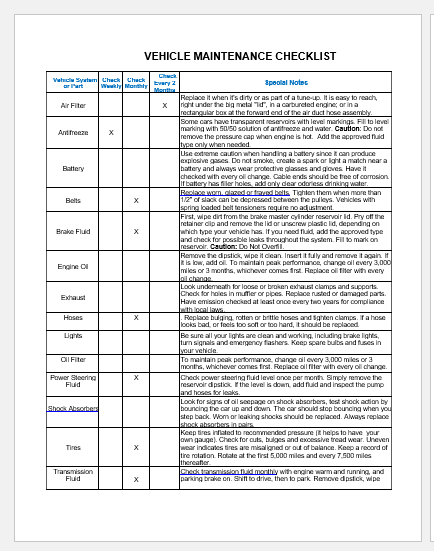 File: Word (.doc) 2007+ and iPad Size 28 Kb |
Download
Provided by
caasco.com
---