Maintenance of property is essential for preserving its healthy state. A building's worth is determined by many factors including its overall condition. It may deteriorate over a period of time owing to a number of reasons. First on the list is an unfavorable weather. Environmental factors of a location can deeply impact the condition of a building. Wear and tear is a common culprit behind small damages. If left unattended, these can turn into large issues which may threaten the strength of a building.
This poses a security hazard which may drive tenants and buyers away. It is, therefore, important to carry out inspections from time to time. Regular maintenance ensures a prolonged life as well as a smoothly running functionality for a building. Building owners must carry out this process in order to maintain the value of their property.
Repair and maintenance is a task which is complex. It requires time as well as effort. In addition, a considerable amount of money also needs to be invested in this process. This is particularly important for those who have to manage more than one building. The task can be simplified by making a building maintenance checklist.
Various aspects of a building can be inspected each month. The checklist can be divided accordingly. Important areas can be designated a higher priority in the checklist. The repairing process can also be prioritized. Areas needing immediate attention should be tended to first.
On the other hand, negligible damages can be treated later. This system of prioritization will divide your effort as well as investment. In other words, the process will become more manageable. Hire an inspection team composed of members who specialize in this field. They can provide their expert opinions and recommendations for the required repairs. The maintenance process also requires the cooperation of your tenants. Rules should be set about adopting ways which do not incur any damage to the building. Safety measures should be followed in order to avoid accidental damages.
A checklist can be created with the help of an online template. It will give you an idea about the necessary contents and how to organize them.
Preview and Details of Template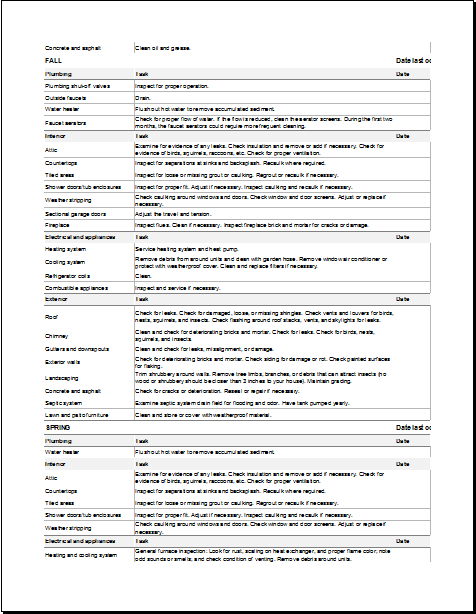 File: Excel (.xls) 2007+ and iPad
Size 60 Kb   |  Download
File: OpenOffice (.ods) Spreadsheet [Calc]
Size 20 Kb   |  Download
License: ENERGY   (Personal Use Only)
(Not for resale and distribution) by Kate Elizabeth(CEO)