In order to succeed and make progress, you have to make sure that every employee and worker of the company is doing his job. The process of evaluation is the tombstone of success as proven by many companies. Evaluation forms are the forms that the companies use to evaluate the performance and productivity of their employees in order to calculate the success of the company.
How to use an evaluation form?
Use these forms as a basis to connect with the employees. A monthly or weekly evaluation or feedback form from the workers would help you achieve the goals as a company and as a team. Workers would be able to express their views openly and this would encourage them to work harder.
Types of the evaluation form:
Program evaluation is carried out to check if the program or the scheme is meeting its objectives and aims.
Principal evaluation is carried by the head of any university or college to evaluate the performance of the organization as a whole.
Presentation evaluations are carried out by the offices after the presentations and meetings to evaluate the performance of the presenter and to check if the aims of the presentation are fulfilled or not.
Course evaluation, supplier evaluation, teaching evaluation etc. are also the part of evaluation forms used on daily basis.
Things to consider in evaluation forms:
Keep it simple and easy:
The simpler it is, the interesting it will be. If you are making a form, make sure the questions you ask are relevant to the topic and are easy to answer.
Do not ask for the details of the answers and give all the possible answers in options. This will help the one who is filling it and he won't get bored.
Keep the form of a moderate length. Making it too long will also affect the yield of the data.
Make it focused:
Aim at the points and the objectives you want to achieve by asking the relevant questions.
Establish a scale that is clear for collaborating the results. The answers should be easy to pick and judge as well.
Have a look at the sample given below. Our professionals have made sure that it fulfills all the requirement of the clients.
Preview and Details of Template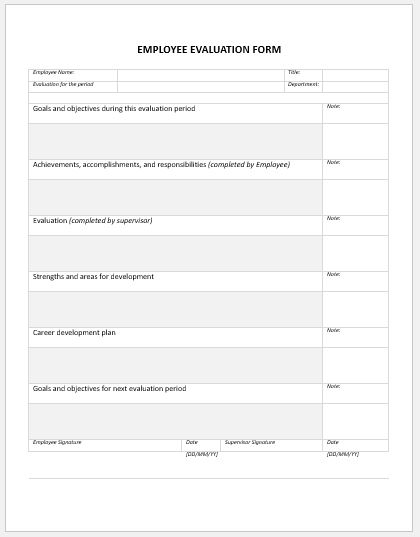 Employee Evaluation Form Template
File: Word (.doc) 2003+ and iPad
Size 47 Kb | Download
File: OpenOffice (.odt) Writer [writer]
Size 18 Kb | –
License: ENERGY (Personal Use Only)
Distribution by Kate Elizabeth(CEO)
---
Preview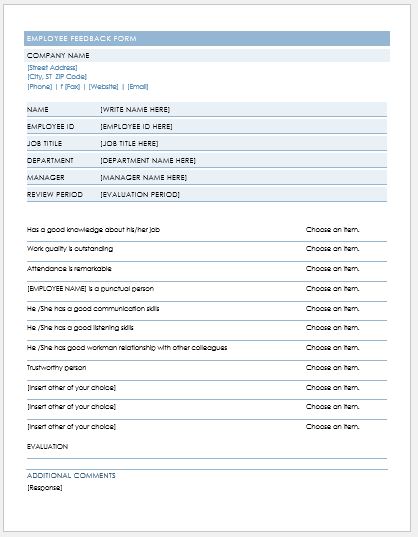 Employee Feedback Form Template
File: Word (.doc) 2003+ and iPad
Size 42 Kb | Download
File: OpenOffice (.odt) Writer [writer]
Size 19 Kb | Download
License: ENERGY (Personal Use Only)
Distribution by Kate Elizabeth(CEO)