A company can face the disputes and conflicts with the employees if they are underpaid by the company due to inaccurate information about the payroll. In order to avoid such situation, the companies use a payroll action form for processing the payroll accurately.
What is employee payroll action form?
The payroll form of action is a form that contains all the information related to the employee such as hiring, change in address, total pay, rate changes, termination details etc.
These forms are very useful because the company transfers the necessary payroll information to the concerned department through them. They are used to document all the changes that occur in the salary of the employees over the course of time.
Whenever any change occurs in the personal details of the employee such as job title, total salary, and address change or in the contract period, the change is reported to the HR department of the firm.
It is the priority of the company to handle the payroll details accurately for the smooth working and good relations with the employees. Any error in the paycheck can affect the salary as well as the benefits of the employee.
Details to be provided:
The employment information such as the name of the employee, hiring data, the department in which he has been recruited and other relevant information. The additional details such as the total number of hours the employee has worked and the salary rate should also be provided to the form.
The change in the personal details of the employee should also be stated in this form. Whenever there is any change in the address, phone number, promotion, salary, department or status, the payslip should also be updated.
If the employee takes the leave without pay, the details related to it such as the type of leave, reason, and duration should be stated in the form.
If the employee has left the company, it is important to remove his record from the database of the payroll. For this, the terminated employee's details should also be provided in the form.
Preview and Details of Template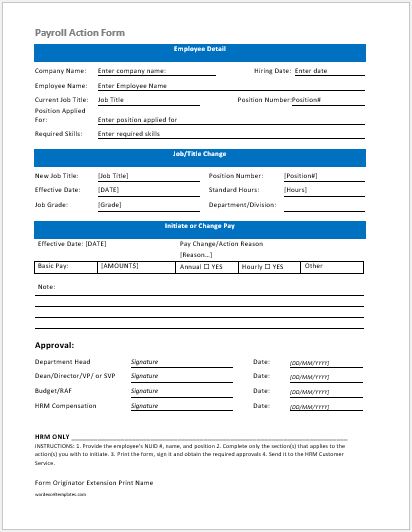 Employee Payroll Action Form Template
File: Word (.doc) 2007+ and iPad 
Size 64 Kb   | Download
[Personal Use Only]