Client information form as the name signifies is an essential document that holds various kinds of details of the customers. This tool is used by many companies and businesses and serves as an information provider to the companies so the information can be used for business processes. The client's information can be used in many ways and purposes like contacting them when necessary or to fulfill other purposes. The client information sheet is usually filled in by the client himself and it is made sure that all the information provided by them is reliable and accurate.
By having a record of all the information of the client, the companies can easily communicate with them about different topics like a new product launch or change prices, etc. This means that the client information form needs to be well maintained and up to date.
A well organized and managed client information form helps the customer relations department of any company to keep in touch with the valued customers and to solve their problems or answer their questions in time.
A client information form is an ideal tool when it comes to minimizing the communication gap and contacting the client within minutes of the query mentioned.
A well-drafted client information form has these mandatory elements in it. However, the contents of the sheet may differ based on the usage and in the department it is needed, but some basic elements are a must. For instance, the name of the client (individual or a company), communication address, occupation, his age, any identification number allotted by the government, contact details and other possible required information.
It is possible to leave out any important detail while drafting this client information sheet, but as it is so important hence most of the companies use a template for this purpose. A template for client information form makes the whole process a lot easier and a lot less time-consuming. The template ensures that the pattern followed by it is a professional one and is easily understood by the client. Important information is added into it and spaces are left out to be filled.
Preview and Details of Template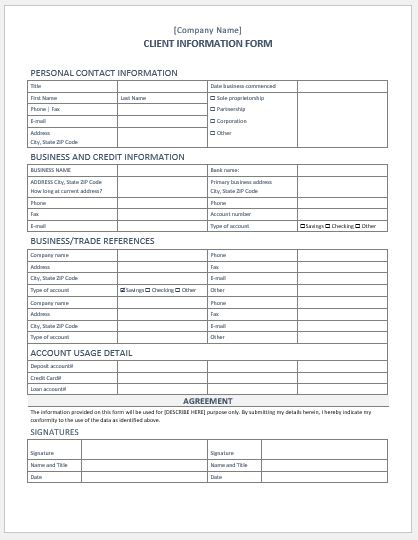 Client Information Form Template
File: Word (.doc) 2003+ and iPad 
Size 40 Kb | Download
License: ENERGY [Personal Use Only]