Whenever a transaction takes place, many documents are used for making it legal and binding. Documents or tools like a receipt, purchase order and invoices are used commonly among both the parties. By establishing a good system of producing such documents, an organization can allow proper financial processes and a very smooth accounting record, which also helps in reducing major or minor frauds.
The invoices if taken seriously, can help the company to ensure that all the services provided or goods delivered to the client are being paid by them. A lot of troubles like non-payment, overpayment, fraud and overcharged service, etc. can simply be avoided.
However, the invoice request form is a form that is sent to the client as a request for the issuance of an invoice for the services enjoyed or the goods received by them. It is common to the businesses that a client may forget or delay the payment due. An invoice request form is thus released in order to ask for the invoice politely. A written reminder is advised as it shows the professionalism of the company and it also becomes an evidence for future use.
As we know that this tool holds an important place in the day to day transactions of a business, thus we should understand that the pattern it follows and the way it is drafted is also very important. Therefore, a template for invoice request form is used by the companies.
This template ensures that a typical format is used which can leave a professional impression on the client. The management will have to do a bit of modification to the template like adding their logo and changing the theme color. After these changes by simply filling the spaces left in the template will make the invoice request form template usable.
A typical invoice request form contains the name and logo of the company, the invoice number, a reference number and other details. It may also contain information related to the sale that has been made like the name of the salesperson. However, the payment details are a must to be mentioned.
Preview and Details of Template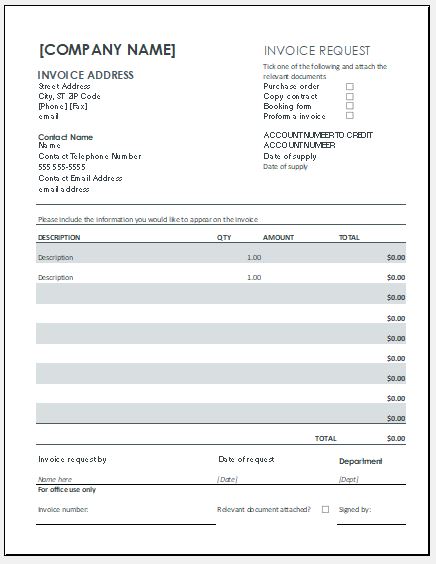 Invoice Request Form Template
File: Excel (.xls) 2003+ and iPad 
Size 40 Kb | Download
License: ENERGY [Personal Use Only]