A quarterly progress report is an ordinary progress report but relates to only three months of the operational year. The users of this report are usually the members of stock exchange all over the world and is required by them to keep updated with the functional details so that their investments can stay in safer hands. Management of the company is also an important user of this report as through this report can they only get the overview of the progress of the company or the project. This report with no doubt provides information to the users on the state and smooth functioning of the company.
A quarterly progress report can be about a project or the company. This report is something that keeps processes smooth and operational and well examined for the whole of the project or the functional year. We know that every project demands a periodic report mentioning the progress and how much have the project completed in the quarter of the year. This can also be used in comparing the actual and the anticipated progress in the relevant period.
As important, this quarterly progress report is, it is obvious that this report should be made in a certain pattern and should create a professional and long-lasting impression on the users. A good report never allows anyone to point out faults from it. To fulfill this purpose, a professionally drafted quarterly progress report template should be used.
The use of a template ensures that the report is totally error free, highly presentable and appreciated by all. A good quarterly report always gives an honest opinion about how good or bad a project or the company is progressing in the given period.
A quarterly progress report is not an easy thing to draft. It should cover even the smallest detail of the progress of the project in the given time frame. The report not only include theoretical explanations, but also graphical and pictorial ones. After choosing the right template for the quarterly progress report, simple modifications or additions in the template can make the most impressive progress report the users have ever seen.
Preview and Details of Template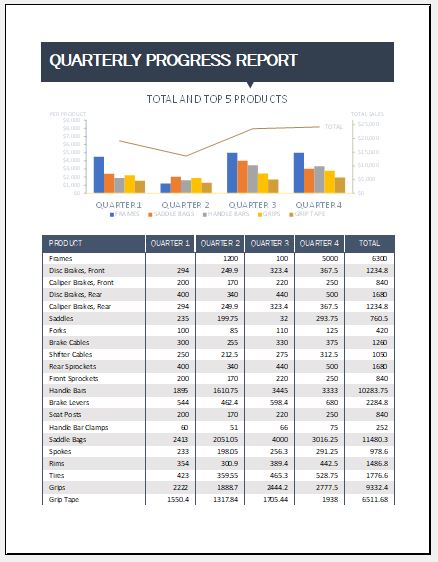 Quarterly Progress Report Template
File: Excel (.xls) 2003+ and iPad 
Size 40 Kb | Download
License: ENERGY [Personal Use Only]