Claim letters are persuasive kinds of letters that a customer sends to the agency or to the company to pinpoint a problem related to the specific product or service. In other words, it can also be called a complaint letter.
Claim letters are the kind of legal form of communication that serves as proof if a claim is taken towards the court. In most cases, appearance in court is not necessary because the business beneficiary drafts the answer in the form of a letter that sorts out the claim.
Humans are at great ease due to rapid advancement in technology and all kinds of facilities are easily found at doorsteps. It is increasing ease in human lives. There are numerous kinds of households, some are available easily everywhere while some are too expensive and not in the approach of everyone. There are some alternatives for those that cannot afford it.
All kinds of machinery and electronic pieces of equipment are followed by their guarantee and warranty. The guarantee is linked with the product's lifespan that it can be functional for how long while the warranty is about claiming that a customer can demand within the mentioned time on the warranty card.
Issues and defects are analogous in every part of life. As humans can make errors, similarly in the same way machinery, appliances and products can also be inoperative. In order to avoid the wariness of the customers on the company's names, electronic appliances and products must be checked fittingly before delivery.
It can prove risky for their advantageousness. The sample given can be used as claiming the warranty of cars, machinery, household appliances, and products. In this letter, you should mention the details of the seller and customer.
Sample
13th August 20XX
Edward Louis
The Manager, ABC Company
Michigan, ABC Branch
Subject: Car Warranty Claim Letter
Dear Mr. Louis,
I am Monika Hughes and four days ago on Tuesday 5th August 20XX, I procured a car from your showroom located in Manchester St, 9878. It was worth USD 25,000/. The actual aim of writing this letter is to ask for a warranty claim.
Yesterday, to check it functionally I went to a nearby city. With remorse, I am informing you that it is nonoperational. Its wheels were giving frothy sound and the car stereos were displaying a black and white picture with dwindling quality. Moreover, its operational buttons were non-functional and out of order. As your company is renowned for having the best cars, it's a hazardous and shocking situation.
I made a purchase from your outlet by considering it the best in the town. But its results made me speechless and alarming. It is a totally cumbersome situation now as I have to leave for a family function in this car and bought it only for this purpose.
I need you to take prompt action regarding this and solve the issue. I have been your regular customer and making my purchase from here for the last twelve years. This is a request for you to deal with this problem. Affixed with the letter is a warranty card having filled all the details and payment's receipt. Waiting for a response from your side!
Sincerely,
Monika Hughes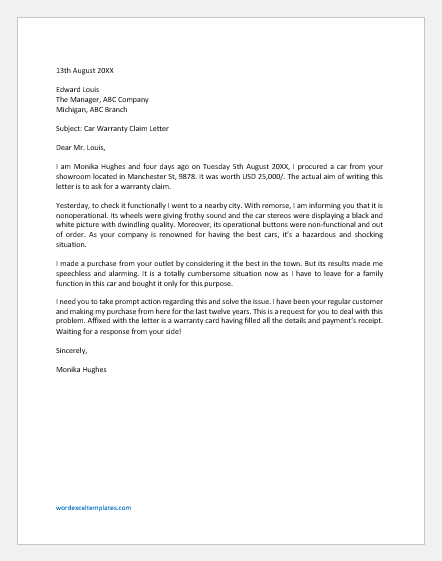 File: Word (.docx) 2007+ and iPad
Size 23 Kb
Download
---