SCHOOL FEE PAYMENT RECEIPT
FEE PAYMENT RECEIPT TEMPLATES
A fee receipt is of two kinds one for an educational institution e.g a school or college and second for services rendered by a consultancy company e.g legal or medical. Both kinds of fee receipts are different. The purpose however for these receipts is the same and that is charging money for specified services and record keeping after payment deposited against those charges.
Generally, the fee receipt has the following data :
The name of the company
The logo of the company
The address of the company
The name of the consultant
The billing month and year
The amount charged
The name of the person who availed the services
The description of the services
Mode of payment
For school and educational institutions additional information like the roll number of the student, name of the student, grade or standard the student is studying in, the section of the grade, the name of the courses taken by the student, security fee, annual charges, cafeteria charges,  transportation fee, the name of the months the fee is charged for, the due date of the fee deposit, the penalty charges in case of late fee payment, special facilities charges etc are also included. The school fee payment receipt is signed and stamped by the person dispatching it. It is also signed by the person who deposits the fee according to the mode of payment specified. A fee payment receipt template fulfill all the general requirements however it can be altered a bit and made customized to fit requirements as well.
PREVIEW AND DETAILS OF TEMPLATE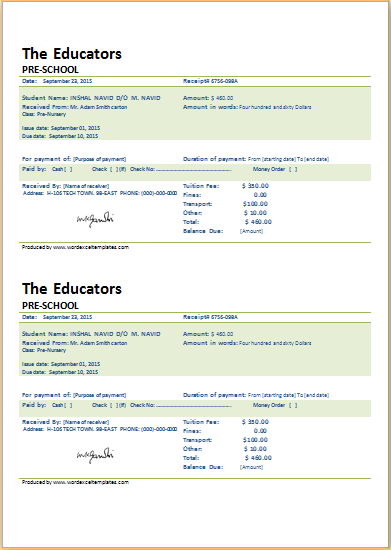 File: Word (.doc) 2007+ and iPad 
Size 59 Kb   | Download
File: OpenOffice (.odt) Writer [Writer]
Size 37 Kb   |  Download
License: ENERGY  (personal use only)
(Not for Resale & Distribution) by Kate Elizabeth(CEO)