Interview Request Rejection Letter
Sometimes you realize that the job for which you have applied is no longer a good match. The interview request rejection response letter is required to be written when you get a call for an interview and you are no longer interested in it. The letter is used when you want to decline the request with politeness and courtesy. Writing a letter to reject the interview request in a good manner is the best way.
There can be many reasons which have made you decide to decline the interview request after you have submitted a job application. You have researched a lot about the company where you have applied and you have not found the job to be ideal for you. It is also quite possible that you find that job to be less qualified for you or you have got a call from another job which is more appropriate for you. Although the letter is very important to decline the interview request, yet there is no need to give reasons in the letter for turning down the interview request. Since it is a formal letter, there is no need to add unnecessary details in the letter. You should keep the letter simple because you may want to apply again for the same job or for another job post in the same company in future.
The tone of the recipient should be professional because, with the professional tone, the employer is more likely to be impressed by your professional and straightforward approach. It is important to identify yourself in the letter and the job position for which you have applied. The letter should be ended with positive words.
You can thank the employer for calling you for the interview and wish him best of luck for the future. It is important that you respond to the job interview request as soon as possible. This will reflect your professional behavior. Stating the intentions in the letter can also put a very positive impression on the mind of the employer. You should state you intentions clearly in the letter so that there is not any ambiguity in the letter. You can also email this letter if you don't have time to deliver the hard copy of the letter.
Interview Request Rejection Letter
[Recipients Name]
[Address]
[Subject: Subject of Letter] -Optional-
Dear [Recipient's Name],
I would like to say thanks to you for giving me the opportunity to interview with you. It was a great pleasure meeting you and all the people out there and learning about the organization. I am so happy to have a good and informative meeting with you. I am much grateful to you for considering for such an important job position in your company. However, I would like to withdraw my application which I submitted for getting the job.
I really appreciate you for taking your time for reviewing my job application.
Thank you so much again for your consideration
[Your Name]
Preview & Details of Template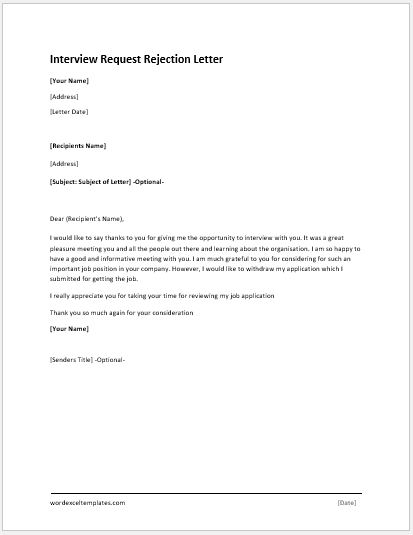 Interview Request Rejection Letter
File: Word (.doc) 2003+ and iPad
Size 44 Kb | Download
License ENERGY [Personal Use Only]
[Not for resale & distribution]