Formal Rent Receipt Template
Rent Receipt
Rent Receipt template is very high in demands for business and other purposes. Real estate dealings are extremely frequent and the maintenance of an authentic record is a must for both the resident and the owner. It is demanded and advised to the renters that they should have a printed proof of the receipt in terms of a document. Such receipts are your only hope in case of any kind of misunderstanding.
Worse case scenarios are possible such as a forceful takeover by the tenant or if the owner decides to pull an illegitimate case on the renter in order to force them to leave. Such events can be avoided by assuring a formal record of each and every step and the rent receipt is an integral part of such records.
The given receipt template allows you to easily fill out the details required and assures you a formal and legal record of the payment for both the tenant and the renter. The template allows you to quickly create a professional looking l receipts that are easy to understand and can be filled out by anyone.
The templates can be used through the simplest of software of Microsoft Office such as Microsoft Word 2007. Older versions are also compatible with the template and can easily run it. This helps users of all sorts to make use of the sample said template. The rent receipt template can be downloaded from the internet. It can very easily be edited according to your requirements.
Preview and Details of Template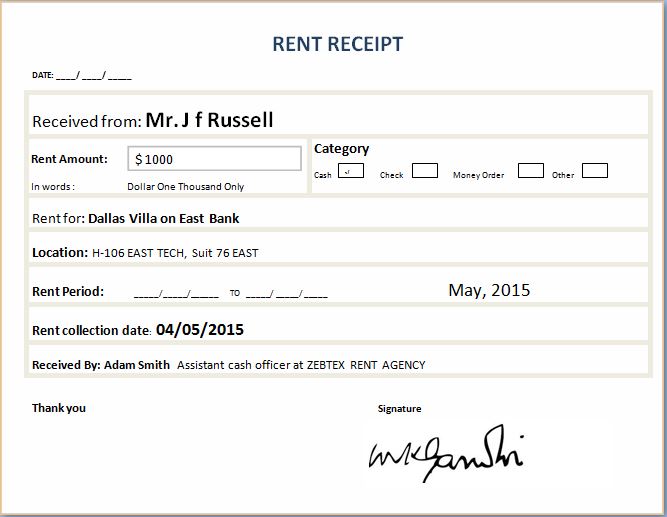 File:Word (.doc) 2007+ and iPad
Size 14 Kb   |    Download
File: OpenOffice (.odt) Writer [Writer]
Size 23 Kb   |     Download
License: ENERGY   (Personal Use Only)
(Not for resale and distribution) by Kate Elizabeth(CEO)
---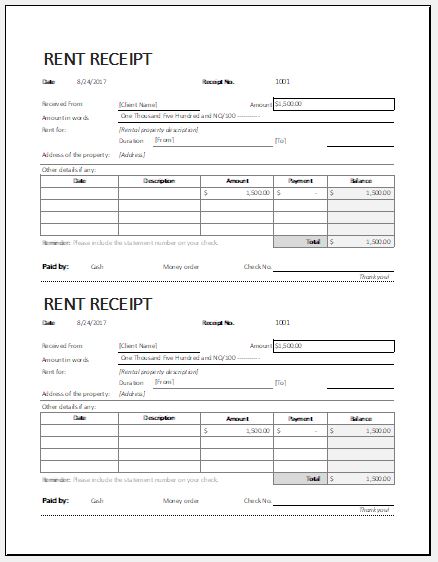 File:Word (.doc) 2007+ and iPad
Size 14 Kb   |    Download