Cash receipt is an instrument which is a proof of giving or receiving cash payment against products purchased or services rendered. The purpose of cash receipts vary regarding to your work or business but on a broader perspective, generally a cash receipt is used for the purpose of record keeping. This record then can be used for making budgets, planning inventory and making yearly feasibility reports.
Business Cash Receipts
Cash receipts can also be termed as a short binding agreement between the vendor and the payee. Cash receipts are also very important when calculating earnings and expenditures of a department or a company for profit loss statements or filing tax documents.
Typically the format of cash receipts has a generic set of values and fields. The cash receipts have following fields and information :
The name of the company and address
The logo of the company
The date of the receipt
The cash receipt id
The name of the individual or company from whom the cash is received
The amount of cash received
The purpose of the transaction
The signature or stamp of the company for authentication of the cash receipt
For large companies with inter department transactions, the name of the department and the name of the person responsible for the approval is also mentioned on the cash receipt. Sometimes the cash receipts are pre printed in bulk and sometimes if the data is computerized, these receipts are printed at the time of need from already saved format available in the company or department database. The generalized format of cash receipts with inclusion or exclusion of any special fields and their printing method is determined by the size of the company and purpose and frequency of using or issuing these receipts.
Preview and Details of Template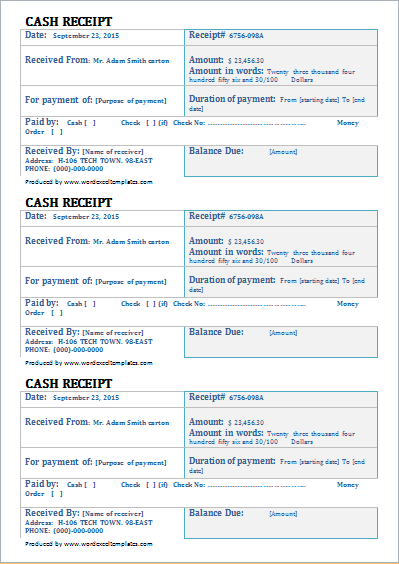 File: Word (.doc) 2007+ and iPad 
Size 37 Kb   | Download
File: OpenOffice (.odt) Writer [Writer]
Size 20 Kb   |  Download
License: ENERGY  (personal use only)
(Not for resale & distribution) by Kate Elizabeth(CEO)