The technology is advancing every day and with this advancement, our lives have been improving tremendously. With this improvement, we have access to safer and comfortable modes of travel. Having your own vehicle has become the need of every person these days. Every home these days have at least one car.
In the earlier times, when there were no vehicles, people used to travel on camels and horses. These modes of travel were very hectic and time taking. At the same time, they were more dangerous. With the advent of technology and science, came different gadgets and vehicles. Having your own car is considered to be a necessity these days. Using public transport can be cheap but very hectic. Also, having your own transport is a sign of good status these days.
If people do not afford their own brand new cars, they can even buy used cars. But the decision to buy a new car or a used one can be daunting. Comparing apples to apples, used cars can be really cheap. The value of a car depreciates with every passing mile and use. Once you buy a new car, its value will decrease the moment a new model is launched. But with a used car, you do not face this problem.
Insurance rates can also be a worry for most of the people. With a new car, the insurance rates can be really high. But the used car does not have at all or have a minimum interest rate. Used cars are left with less useful life and are cheap in value, so naturally, they have a low insurance rate.
Though buying a new car can have a lot of benefits, but even then it can have problems as well. One of the biggest benefits of a new car is that it is new and has never been used before. So that means, this car never had any accident. With used cars, there will always be a problem of maintenance. And regular servicing might be needed by the car.
Maintaining a vehicle service record can be good as it can help you remember when you need to go for the servicing again. Making a car schedule will help to maintain the car in parts. An estimated cost of the wear and tear should be mentioned. The intervals between the maintenance should be mentioned as well in the record. The date of maintenance and the next expected date should be mentioned to analyze the gap between the times.
Preview and Details of Template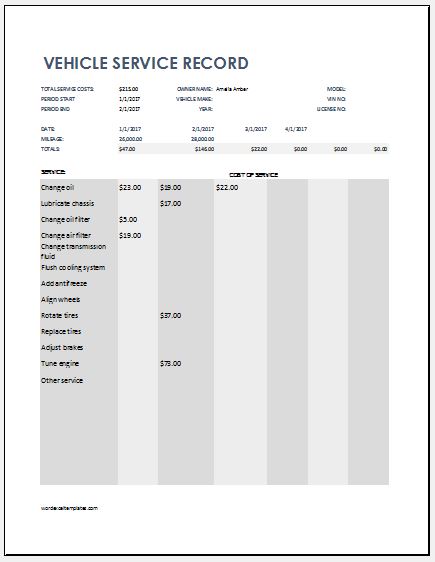 Vehicle Service Record Template
File: Excel (.xls) 2003+ and iPad
Size 43 Kb | Download
File: OpenOffice (.ods) Calc [calc]
Size 11 Kb | Download
License ENERGY [Personal Use Only]
[Not for resale and distribution]
---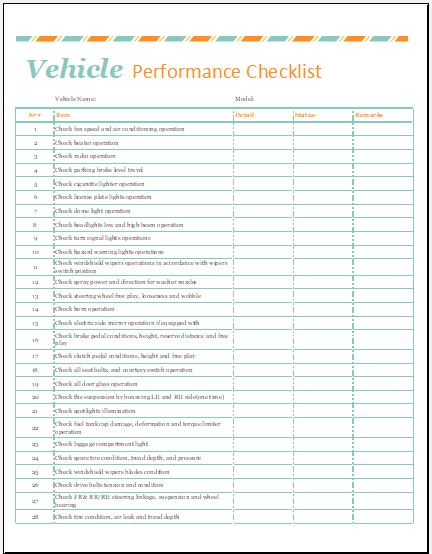 Vehicle Performance Checklist Template
File: Excel (.xls) 2003+ and iPad
Size 27 Kb | Download