It is possible to get a fever at any time. When this happens, it is important to rest so that one can get better. A fever is also able to spread fast. This is why it is important to take some leave off work or school so that one can get better. A sick leave letter for fever is helpful here.
What is a sick leave letter for fever?
A sick leave letter for fever is the one written when one needs a leave due to having a fever. The letter is a formal way to inform your work or institution that you require this leave.
Importance of a sick leave letter for fever:
A sick leave letter for fever is important as it helps an employee or student inform higher authorities that he/she is not well and cannot attend work or school. It is a formal way to request a leave. The letter can be provided as proof if needed when any issue arises. With the help of the letter, it can be seen when the person was on leave and for what reason.
Tips to create a sick leave letter for fever:
When making a sick leave letter for fever, you should draft it so that the reader will take you and your condition seriously. The following tips can be considered when writing the letter:
Type: The letter should be typed in an application like Microsoft Word. You should not write it by hand. Choose a font like Times New Roman or Arial. The size should be 12 or 14.
Sender's details: State your name and address.
Date: Tell the date that the letter has been written.
Receiver's details: Mention the designation of the receiver and the address of the company or institution.
Subject: This can be in bold and will briefly tell what the letter is about. It can be something like "Sick Leave for Fever".
Address the reader: The reader can be addressed with something like "Dear" and their name. If you are a student's parent writing it to the teacher, you can say "Respected Madam/Sir".
Body of the letter: Start the letter by immediately telling what it is about. You need to do this respectfully. You will tell that you are suffering from a fever. State how many days you have been experiencing this. You need to say that you require a leave. Tell me how long you want this leave to be for. Tell me when you hope to be back at work. State that you will be available by phone and email if there are any issues. End by thanking the reader for considering your leave and that you hope to get a positive response.
Ending: The letter can be ended with something like "Yours Sincerely". You will then tell me your name.
Proofread: It is necessary to proofread the letter and check for any spelling and grammar mistakes. These must not be present if you want the reader to take the letter as being serious and professional.
A sick leave letter for fever must be written politely and professionally. You should let the reader know that you have a valid reason for wanting the leave.
Sample sick leave letter for fever:
Subject: Requesting leave for [X]
Dear Mr./Mrs. (Name of recipient),
I am writing this letter to inform you that I have a fever. Due to this, I am not able to attend work/school. I went to the doctor and they prescribed (tell how many days of rest they said you need) rest. I need this time to rest so that I can recover and get back to work/school soon and continue with my activities.
I am taking proper medication to recover. Due to this medication, I feel tired and drowsy. I hope to be back at work/school on (tell the date). I have attached the doctor's note with this letter along with the prescription that he/she has prescribed.
It is my humble request that you consider my situation and give me the leave that I need. I shall be very grateful.
Yours Sincerely,
(Tell your name)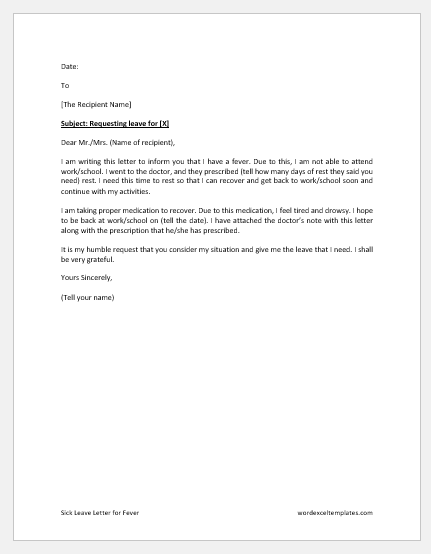 File: Word (.docx)
Size 16 KB
See also: