It is a tradition in many western countries to send gifts to each other anonymously that not only makes the Christmas vacation more exciting but also acknowledges another way to celebrate this beautiful day with full passion and energy.
Secret Santa is a game played during the Christmas season to embrace the high spirit. In this game, gifts are exchanged among different people in an environment. The interesting thing about this game is that the person who sends gifts to another person does not disclose his/her identity. In this way, the person who receives the gift never comes to know who has sent him/her the Christmas gift. Everyone in this game receives the gift of Christmas day.
Along with the gift, Secret Santa cards are also sent. A beautiful poem or other types of words are written on these cards. The words or sayings don't reveal the personality of the person who has sent the card. However, these cards are one of the best ways to express love for the other person.
Importance of Secret Santa gift card messages:
A gift card is the best tool that human beings can use to express their love, sympathy, gratitude and other feelings that they think are not easy to express in any other way. Sending a gift card to someone is another way to express feelings. Gifts are usually sent on happy occasions. Therefore, the wording used in gift cards usually expresses love.
When it comes to celebrating Christmas by playing Secret Santa, people love to indulge themselves in these games. Christmas has become one of the long-awaited events across the world because of the opportunity it brings for people to strengthen their bonds with others.
Everyone needs to write such gift card messages that can convey good vibes to the recipient. If two people have not been on good terms with each other for quite a long time, they can resolve everything by writing a lovely gift card message.
Writing some great messages
So, you have decided to play this sneaky peaky game with your friends and co-workers and you have also purchased gifts and gift cards, it is the best time for you to think of messages that you need to write on these cards. We are going to provide you with some tips to help you write amazing gift card messages.
Consider the interest of the recipient:
When you are writing a gift card to someone you know very well, you might be aware of those things that amuse the recipient. Since Secret Santa is all about having fun, you must write something really enjoyable to read.
Whatever you write in the gift must increase the interest of the recipient in the gift and game. This can be achieved by writing something really fun.
Leave the recipient to guess the sender:
The real beauty of this game is the fact that it keeps everyone curious till someone voluntarily discloses to who he or she has sent the gift. However, curiosity does not have to be indefinite. You can think of making the recipient make some guesses. This is a new type of fun that brings about lots of fun.

It is important to remember that the recipient will never be able to guess unless he gets a clue. Therefore, you should write the message in such a way that the recipient gets a clue as to who has sent him that secret Santa card. Now it is up to you whether you want to give an easy guess or a tough one.
Write your Christmas wish in the message:
While writing the gift card, you must remember that it should not lose the real essence of Christmas. This implies that you should never forget to wish the recipient a very happy and joyful Christmas. When you wish for Christmas, you express that you are passionate about this day and you are glad that you have got this opportunity to send Christmas wishes to the recipient.
Express your feelings:
Since you are sending a gift along with a Secret Santa card, you should express your feelings. We usually send Christmas gifts anonymously to those who are valuable to us. Therefore, there is nothing wrong with expressing what you feel.
While writing the message on the card, you should try to tell the recipient that you are very happy to send the Secret Santa gift to the recipient. Also, tell that it is a great feeling to write the card to the recipient. The secret Santa gift card message should be able to make the recipient feel special and valued.
Message -1
Hello Ely, I hope you are doing fantastic. I am sure this thing might surprise you that who this person is, but I want to keep it surprising. You are very special and close to my heart and I want to make your Christmas Day special by sending this Christmas card.
I heartedly pray that on this day you get everything that you are wishing for. I am hopeful that the tough situation you are facing these days will soon go away and you will start living life with the same vigor, enthusiasm, and charm.
I pray that you enjoy this auspicious occasion of the year with comfort, a smile, and liveliness. I wish that your success reaches the height of the skies and may you get what you want.
Always keep smiling and enjoy this Christmas day with full liveliness. May God removes the difficult phase of your life and you enjoy life with full enthusiasm.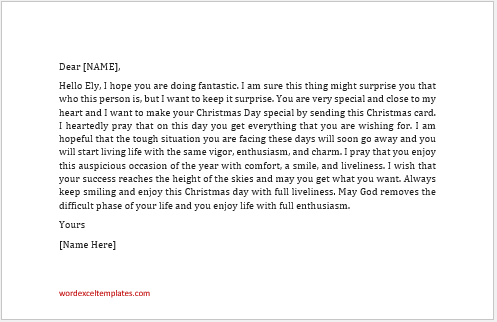 Message -2
Hey Liza, how's everything going around the corner? How are you and how's your study going? Now you will be shocked that who am I to ask these questions? I want to surprise you a little by not disclosing my name. This guess is enough that I am your childhood friend but still I will not reveal my name. So here I am sending you this surprise gift card for Christmas.
I am sending you this card with lots of wishes and prayers. I know that you are combating serious diseases nowadays. On this day I pray that you start coming to life with the same stamina and liveliness that you had before. I wish you a healthy comeback to life. As you know that our tough time brings us closer to God so this is the best time to be close to Him.
You do not need to be worried at all as God will soon bestow you sound power and health and you will get rid of all the medicines that irritate and annoy you. Love you loads and wish you a healthy and blessed life. Enjoy this Christmas day with your loved ones. Merry Christmas to you!