A salary certificate is a transparent document that details the net income along with different deductions and allowance of the employee. The main purpose of using the salary certificate is to make it an evidence of taxation of the employee. There are also many reasons for which the salary certificate is issued by the company.
The employee may need to get salary certificate when s/he wants to apply for some specific allowances or benefits being offered by different educational institutes or other organizations. This certificate is also required to be used when the employee has to apply for a visa.
No matter for which reasons the salary certificate is needed, it is the right of an employee to get it whenever he needs it. It is the duty of every employer to issue this certificate upon the request of the employee.
What is a salary certificate issuing form?
The salary certificate issuing form is a document which is used to collect the information required to create a salary certificate. This form is considered to be very beneficial for employers as they get all the information on a single page which can then be easily transferred to the salary certificate. The employee also attaches some required documents with the form that are needed by the employer while drafting a salary certificate.
What are the benefits of using salary certificate issuing form?
This form is very beneficial to use when you want the information that has to be included in the form to be available instantly
It also saves the time of the employer that he may consume in collecting the information that he has to jot down on the certificate.
This form is very easy to use and enables everyone to work with it easily
If you want to get a salary certificate issuing form for your organization, you can download the form template from this website. This template is very easy to modify as it is highly customizable. The user gets the ease to add or remove the information from the issuing form template as required.
Preview and Details of Template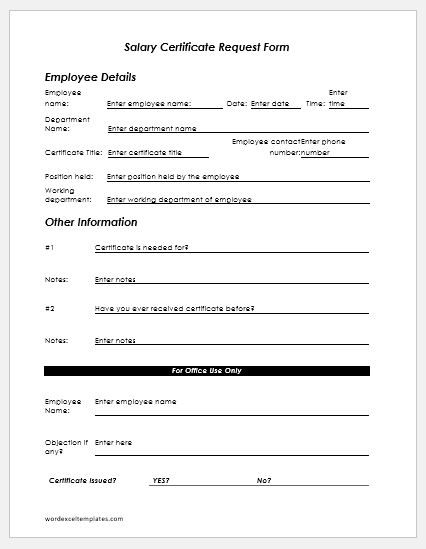 Salary Certificate Issuing Form Template
File: Word (.doc) 2003+ and iPad 
Size 57 Kb | Download
[Personal Use Only]