Inquiry Forms
The company uses the payment inquiry form in order to indicate the customer that the payment has not been made yet. The pending payment needs to clear and the company wants the details regarding the status of it. It includes a form which is to be filled by the customer. Sometimes it is also referred as payment inquiry letter.
Companies conduct their business with several clients, other companies, suppliers, and customers. People prefer to use the latest method of payment rather than the cash. They most often do it on credit. Doing on credit means receiving the order on time, but paying it later on, either in small installment or full payment at once. In order to view the money, which the customer or client owes to the company, payment inquiries are made by the accounts department.
The unpaid invoices are analyzed by the accountant and follow-ups are made to the clients. In the follow-ups, clients who failed to pay is being asked by the company about the reason of not paying till due date.
There may be a number of reasons for not getting the payment on time. The company can easily know the reason behind the unpaid invoice. The most common reasons for not clearing the invoice on time are may be the client died before clearing invoice or the customer did not receive any reminder from the company.
Besides this, maybe the customer is indulged in any dispute and waiting for it to get resolved. Upon using the payment inquiries, the most common reason explained by clients is that the customer has not paid them yet so they are unable to clear the invoice of the supplier.
Whatever the reason may be, the payment inquiry form template can help you out to know it. The company can evaluate that either the client is going to pay or they have to mark the invoice as the forgotten invoice or bad invoice.
About Template
The payment inquiry form template is comprised of few key elements which are mentioned on every professionally designed template. It involves the name of the client or debtor along with complete address, date of inquiry, details of unpaid invoice, client's reasons for not clearing the invoice yet, payment details, the signature of accounts manager.
Preview and Details of Template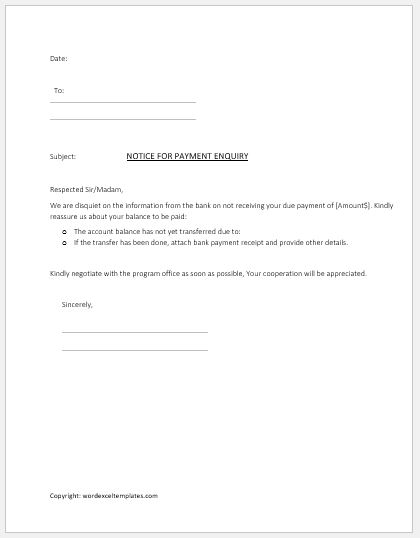 Payment Inquiry Form
File: Word (.doc) 2003+ and iPad 
Size 23 Kb | Download
[Personal Use Only]