The food inventory sheets are usually used in hotels and restaurants. Managing the food inventory of the restaurant is not very easy, however; the use of food inventory template simplifies the process. The details of the template can be edited easily because of which organizing the inventory of the hotel becomes easier. This template includes all the features that you may require running your restaurant efficiently. It is available in MS Excel format and can be used for keeping track of the food as well as the freezer inventory.
Key elements of the sheet:
The worksheet consists of multiple fields that are added to it to insert the details regarding food inventory. The main details of the worksheet are:
Names of the food items
Date of arrival
Manufacturing date
Expiry date
Counted units
Unit price of each item
Description of the item
Benefits of the template:
The benefits of using this template are:
It perfectly ensures that the restaurant is always full of stock.
It allows the ease with which the user can modify the contents so that the details specific to the user can be added to it.
Once the process of editing is completed, the template can be downloaded or printed online.
It keeps track of entire food inventory to ensure that the clients and customers of the restaurant are being served properly because of having healthy and fresh stock.
The use of this template also ensures that there is no ambiguity left while keeping track of the demand and supply.
Some diverse designs and formats can be used to edit and prepare the professionally used document. It takes no time in preparing the food inventory for your business or restaurant. There are some pre-defined questions that you have to answer to get a comprehensive document.
The template for food inventory is the best document when you want to define the details of your food inventory in the restaurant.
Preview and Details of Template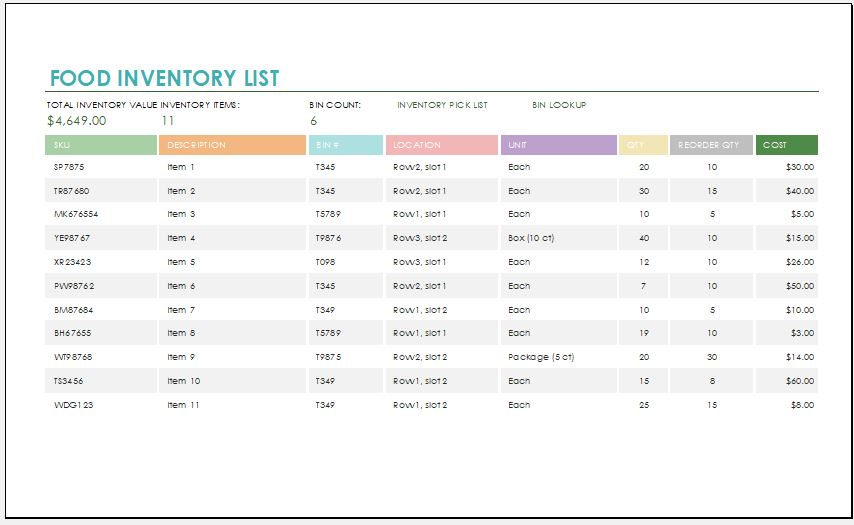 Food Inventory Template
File: Excel (.xls) 2003+ and iPad 
Size 33 Kb | Download
License: ENERGY [Personal Use Only]