Most of the people spend half of their life studying. So, this proves that no one can deny the importance of education in life. Every new session of school starts with complaints and groans from children. Who likes waking up early in the morning? Especially children, they love sleeping for long hours. And not children every human enjoys a good sleep. The first few school years seem hard and we sometimes feel for our kids. The school has a very strict or rather a disciplined life. This discipline is our first training for a successful life.
We might hate school but even then, we never fail to understand that school is one of the reasons that we learn so much in our life. Not only we grow academically, but we also learn how to face the world. Learning about a new subject builds our confidence. In school, we get to study various subjects which help us realize what our major interest area is. When we are good at something and our teachers support us, it not only makes us happy but it also makes us strong and confident.
The world out there is all about people. If we know how to deal with people, we can be successful in our jobs and education. A school is the best place to learn people management. We meet children from all shades of life and we learn to get along them. School helps us make like-minded friends and create a support system for our self. As we grow up, we never forget our school memories and neither do we leave our school friends. Our school friends are our friends for life.
Education is important but so are vacations. Summer or winter vacations are a good way to get a break in the middle of the school. A lot of people go around the city or even countries for spending vacations. And after spending two or three months at home, our school discipline fades away. And it takes us some preparation to get back to the normal routine.
It is always a wise thing to prepare a back to school to do list. To do lists are anyway very important for management. And these lists are not only important for teachers but they are also important for students. For a student, it is very important to make sure that they have completed all the homework and submitted it before going to school.
At schooling time kids are growing fast. So, after holidays, children gain some weight and even some height. It is always best to buy a new uniform and keep it ready for school. Every student should make sure that they have all the books and notes they will need for their classes. Personal hygiene is also a very important factor in our life. So, don't forget to get a haircut and clip your nails.
Preview & Details of Templates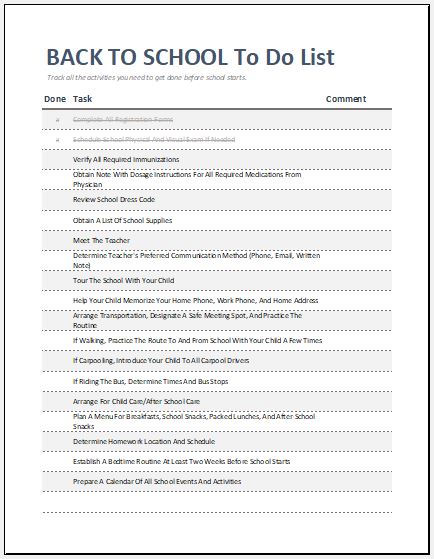 BACK TO SCHOOL to do list Template
File: Excel (.xls) 2003+ and iPad 
Size 16 Kb | Download
License: ENERGY [Personal Use Only]
---
BACK TO SCHOOL shopping list Template
File: Excel (.xls) 2003+ and iPad 
Size 16 Kb | Download
License: ENERGY [Personal Use Only]