When you are in a legally binding contract with someone, you are required to abide by the rules you have agreed to follow. If you do not follow them, you offend the other party and cause inconvenience. This may lead to lots of conflicts in the future as well as serious consequences.
No matter whether you have conducted the breach knowingly or unknowingly, you can always take steps to correct your actions by writing an apology letter.
What is a sorry letter of apology for violating the contract?
This is a letter in which you state that you are accepting your mistake and you are feeling regretful for being so careless.
This letter serves as an opportunity for a person to apologize for the mistake he has conducted. This way, the person can get away with serious consequences that he would have faced if he hadn't written the sorry letter.
Why write a letter to show regret upon showing an infraction?
The apology from one side of a relationship in personal life mostly works like magic. It is the best way to mend broken relationships and trust. Similarly, when you are in a business relationship and you realize that you have made a mistake such as violating the agreement, your apology letter can help you develop trust once again.
When people see that person in the agreement is not taking the agreement seriously, they think that he is not serious. Sometimes they decide to terminate the legally binding considering the harm they might face in the future. To prevent this situation, an apology letter can work.
How to write?
If you want to know how to write this letter, you should follow the tips given below:
Refer to the agreement:
You have breached the contract and this offensive act is disturbing you a lot. It is high time you embrace it. But before you say sorry, refer to the treaty you have signed and mention what you were supposed to be doing. This way, you will let the reader know that you dare to embrace where you went wrong and know what exactly breaching the boundaries feel like.
Discuss the breach:
Tell the reader how you have not respected the agreed-upon terms and what has made you feel that you have done the mistake. Mention it briefly and with a very clear statement.
Express regret:
Let the reader know that you are not happy with the breach and you have realized that you were wrong. This will make the reader feel that you are realizing the mistake and you should be given one chance to correct yourself. While you write this part, make sure your tone is appropriate and you don't come off as someone arrogant and not regretful.
For writing an effective letter, the formal sample letter has been given below. This letter represents the apology of the vendor when he signed an agreement to deliver products to the buyer by a specific date but could not do so for some reason.
Sample apology letter for breach of contract:
Dear Mr. ABC,
This letter is being written in response to my email on 19th December 20XX. You enquired about the products that I was supposed to deliver by 15th December 20XX according to the contract signed on 2nd December 20XX.
I sincerely apologize for this. I know that I have violated the terms and conditions of the contract by not delivering products to you by the promised date and I feel regretful because of it.
I am trying my best to ensure that your ordered product reaches you as soon as possible. I promise that you will receive your order at your earliest convenience without any further delays.
To compensate you for the delay, I am offering you a 5% discount on the total bill. The discounted amount will be transferred to your account within 3 to 4 working days.
I apologize once again for the inconvenience. I hope that you will understand. If you have any queries, feel free to contact me.
Regards,
Name of the sender
Signatures of the sender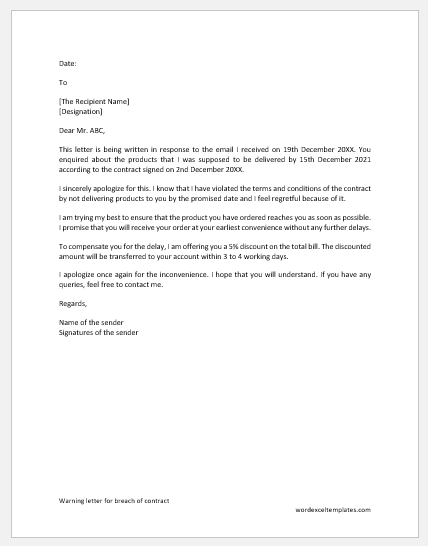 File: Word (.docx) 2007+ and iPad
Size 21 KB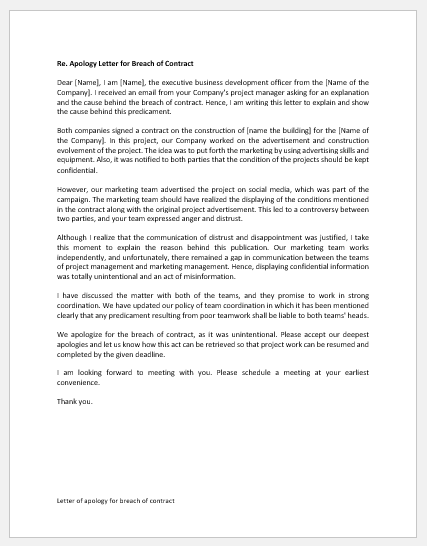 File: MS Word 2007/+ Size 56 KB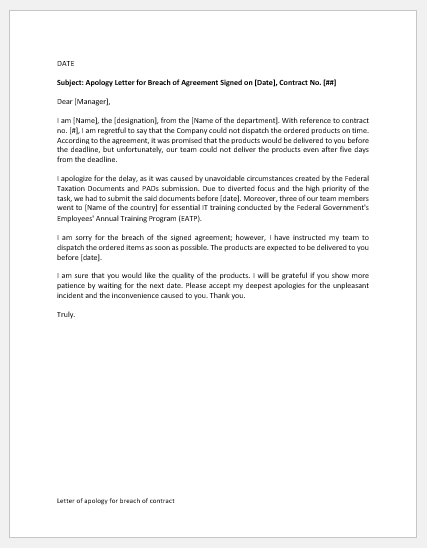 File: MS Word 2007/+ Size 56 KB
See also: