Some companies facilitate their workers by allowing them to work different shifts. This usually happens in big organizations. If an employee has some personal problems due to which he finds it difficult to adjust to the existing work hours, he can write a request letter to the manager and ask for a change in shift.
Remember that many people fail to get their request approved because they do not write the request letter in the right way.
Make sure that you have a sensible reason to ask for the shift change. This will increase the chances for you to get approval.
Writing a professional-looking shift change request letter is not a big deal. Follow the tips
Write a request in a formal way:
Since you are writing this letter to your boss, it is very important to remain formal. Come straight to the point and start the letter with your request.
Mention the justification of the request:
Your employer will have to bring a lot of changes to change your shift. Therefore, oftentimes he would like to know what made you make this request. So, you should be ready to give the justification for the change in shift request.
Thank the employer for the corporation:
When you apply for a change in shift, you must remember gratitude is an important part of making the request. End the letter by saying thank you to the reader for showing cooperation with you in advance.
To understand how to write a request to your employer, you can read the two sample letters given below.
Sample letter 1:
Subject: Change in shift request for [XYZ]
Respected sir,
Please consider my request for a change in my work shift. Currently, I am working the evening shift. I would like to switch to the morning shift because I have to be at home in the evening because of my mother. I need to take care of her in the evening because my wife works in the evening and there is no one at home to take care of my mother.
I am well aware of my job role, nature, and requirements and I have always tried to make sure that I don't show negligence at work. However, the evening shift is causing serious problems in my life.
I have been working in your company for more than 10 years. I have always been a dedicated and passionate employee. I have already spoken to Mr. Pell about this matter and he has also encouraged me to make a request to you.
If you want to get further investigation about it, please call me in your office. I would be very happy to meet you and provide you with additional details. Thank you so much for your cooperation and support.
Regards.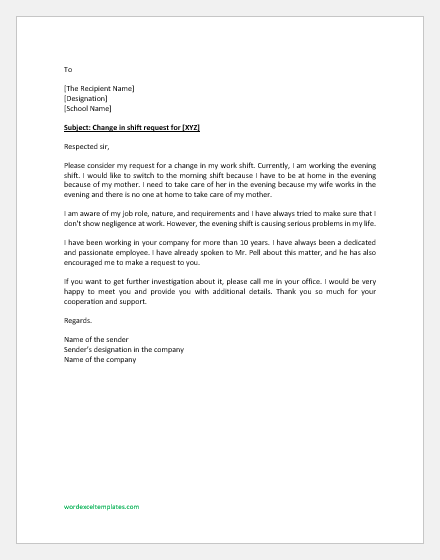 MS Word 2003+ Size: 29 KB
Sample letter 2:
Respected sir,
Please find this letter as a humble request to you to change my morning time job shift (from 8 am to 1 pm) to the evening time shift (from 4 pm to 9 pm).
I am compelled to make this request because of some serious problems. I come to my office from a remote area daily and I have to depend on public transport for this purpose. The timings of buses have now changed and now I can find public transport convenient for me only if I travel in the evening. Therefore, it is humbly requested you please change my shift so that I can conveniently travel from the office to home and vice versa.
In case you want to know more about my situation, I am ready to provide more information. Please contact me at my official contact number. I would be so happy to hear from you to resolve my matter. I know it might cause you inconvenience but I believe that changing the shift will not affect anyone much. Thank you so much for your cooperation. I will be obliged if you accept my request.
Regards.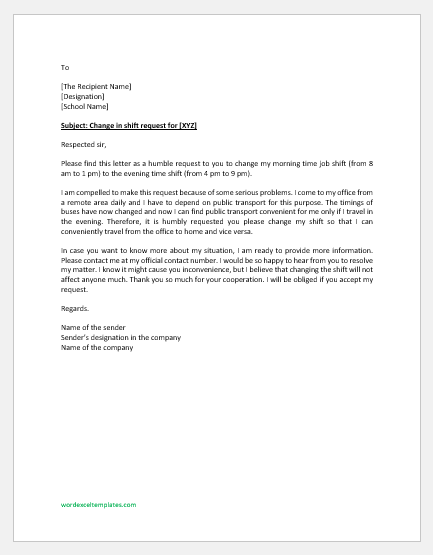 MS Word 2003+ Size: 29 KB