If you want any deal to be successful, then you will require a sales proposal. A successful sales proposal has the ability to make a difference when it comes to losing or even winning some sale, getting some new client and keeping long-term relationships with your prospective clients. With the help of a sales proposal, you can pitch a product and service to get new or even repeat business. This template will help you when it comes to making a sales proposal.
What exactly is a sales proposal?
When it comes to a sales proposal, this is regarded as a written document particularly where some seller provides goods or maybe services to prospective buyers. Within this offer, the sellers show the ways that they can serve the requirements of buyers by displaying the main benefits of the products or services that they have.
How to write a sales proposal?
Researching your customer– Before starting to write the sales proposal, you have to know all the details about the customer. If the proposal tends to be in response to some request for proposal or RFP then you may be given some background information. You may not have gotten any information, then you may need to undertake some extra market research as well as customer discovery so as to draft the sales proposal which fits the prospect's requirements.
Outlining your proposal– It is a good idea, to begin with, an outline for your business proposal. The final proposal will have to be comprehensive as well as free from any mistakes when it comes to logic and grammar. With an outline, you can organize and that without the extra pressure of perfection.
Writing your sales proposal– You can keep some things in mind when you are writing the proposal. This includes what your customer's issue is, the ways you can provide a solution, the ways you can appeal to the interest specifically of decision-makers, the things that differentiate your offer from the competitors that you have, whether you have asked your customer to take some clear action upon the proposal.
Parts of the sales proposal– The proposal should follow the common format which your prospective clients would want to see. The sales proposal tends to be a familiar path, therefore, do not reinvent the wheel. Nevertheless, you can put your unique spin upon it. Some typical proposal will have the below format:

The benefits to a customer (the things the product can do for them)

The point about no warranty

Any clauses or regulations
Advantages:
If you are able to make a good sales proposal then this may produce some benefits for you. This includes:
The ability to win a sale that you want
The potential to be able to get new clients
Being able to establish a long-term type of relationships with any prospective clients you have.
Final Words:
A sales proposal template can help you make an effective sales proposal. You can tell from the above the importance of this document. Therefore, it is important that you create this properly so that you can get its advantages.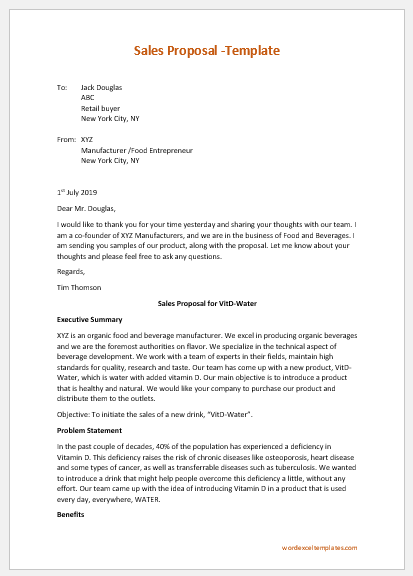 File: Word (.docx) 2007+ and iPad Size 30 Kb |
Download
---