Companies and organizations always try their best to get the most valuable repute in the competitive world and emerge as a tough competitor to all. Companies put their utmost effort into making their business successful. While starting a company, always keep this fact in your mind that surely there would be some things which do not go on your way. But, with the conscious mind and efforts, you can keep your business on the right track and face the hinders manly.
In our personal lives, we often forget to give a call to the person to whom we commit to give a call back in an hour. Likewise, it skips from the mind of many people to pay their utility bills on time. Same is the scenario with the business. Companies may also experience such circumstances in which the client forgets to clear out the payment on time. It may be intentionally or unintentionally.
If you are suffering from the issues of getting late payment from the clients then it is better to take a deep breath and calm yourself rather being furious. As showing anger to the client or being harsh to them can easily turn the table.
The delay in payment can be due to some genuine reason. Anyhow, whatever the reason is, the most professional and sagacious step is to remind the client about the due payment. The official document in this regard is past due reminder notice.
Take the aid of this formal notice which clearly mentions about the payment details, past due date and also the deadline in which the client or the debtor has to deliver the payment. Failure to do so compels the company to take any strict action such as legal action against the client.
This reminder is of great significance as it helps the client about the payment whose transfer to the company's account is pending and so clears it. Get the professionally designed ''Past Due Reminder Notice'' in a single click only. Click on the download button and fill in the blanks. It is written in simple language an easy to comprehend. Edit it and use it when required.
Sample Notice Template
Dear Customer Name,
It is to remind you that your account is still past due with an amount of $[AMOUNT].
A short time ago, we sent you a statement regarding your due payment on which we did not receive any response from you. Kindly, submit your payment as early as possible.
We find your failure to pay the due amount as the violation and breaching of our credit agreement terms. We shall be compelled to suspend your account if we do not receive the payment in the next seven days. It will be unlikely to reactivate credit terms on your account once it gets suspended by our company.
We truly hope you will submit your due payment in full.
[Company Name]
Preview and Details of Template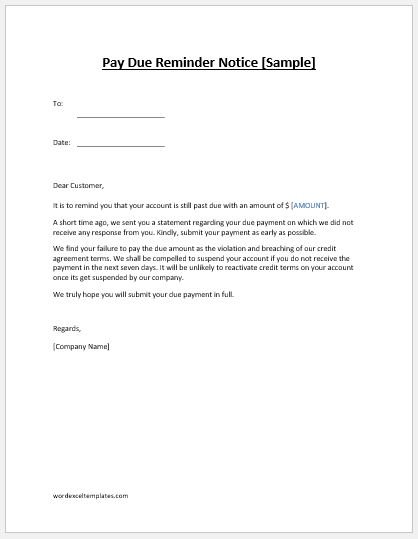 Notice Template
File: Word (.doc) 2003+ and iPad 
Size 28 Kb | Download
[Personal Use Only]