Music paper sheets
The template for music paper sheet also known as the manuscript paper is available here to be downloaded free of cost. These papers are available in a number of sizes and orientations. The user is allowed to download any of them that suit his needs. The manuscript available is filled with staves where you can easily create your musical masterpiece or composition. These papers are easy to customize. This feature enables you to create the document according to your own needs.
The blank stave paper:
Some staves that you need per page can also be customized. You can adjust the stave from 5 to 11 per page. The template arranges the stave on the paper in an organized and evenly manner to give a beautiful look to the sheet. These pages are known as blank stave pages since they don't contain anything except staves. You can use this blank stave paper if you need to sketch the musical masterpiece to represent your creativity to the world.
Music paper with margins:
Apart from organizing the composition on the paper, if you need a room on the top of the paper for giving the title, you may need to leave some margin for it. Apart from the title, the written text can also be added at the top.
Blank music paper sheet for grand staff:
This type of template has designed for writing all those musical compositions that use two staves. You can write music for piano, duets, etc. In this template, you can choose the margin of your choice. Some systems that you want on each page, as well as the number of different options based on the size of the staff, can also be adjusted according to the needs of the user.
There are also some other types of music paper sheets templates available on this website that can be used to write the music for piano, trumpet, flute, saxophone, etc. Moreover, if you want to write trio music that requires three different staves each page, there is a separate template designed for you for this purpose.
Preview and Details of Template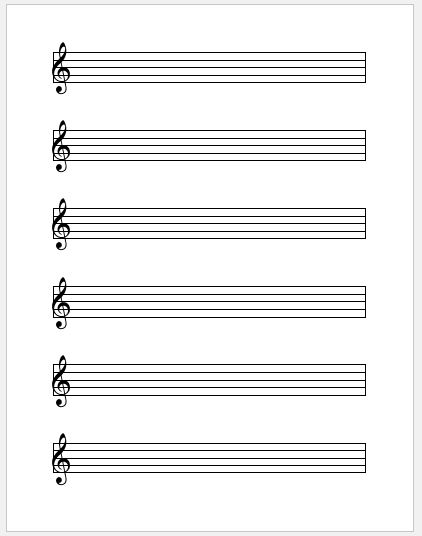 Music Paper Sheet Template
File: Word (.doc) 2003+ and iPad 
Size 39 Kb | Download
License: ENERGY [Personal Use Only]
---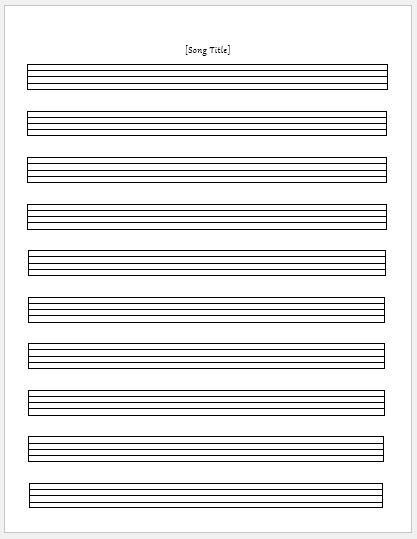 Music Paper Sheet Template -2
File: Word (.doc) 2003+ and iPad 
Size 29 Kb | Download
License: ENERGY [Personal Use Only]
---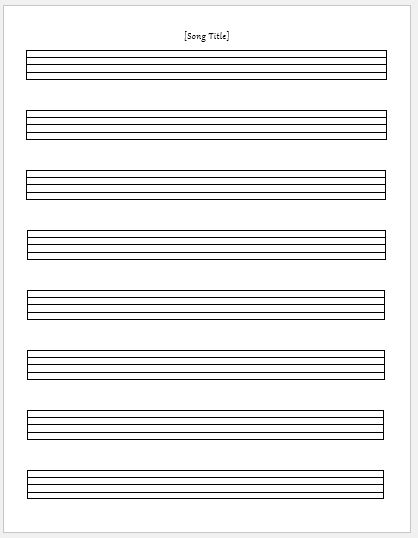 Music Paper Sheet Template -8 per page
File: Word (.doc) 2003+ and iPad 
Size 43 Kb | Download
License: ENERGY [Personal Use Only]