Subject: Car Booking Cancellation
Dear Sir/Madam, this is [name of the sender], writing to you to request the cancellation of a booking I made. I apologize if it causes any trouble but I have to make this decision. On [date], I visited your auto showroom located at [mention precise address] to have a look at the new models of car companies in 2023.
I loved one of the cars and decided to buy the car on an installment plan. I only paid the application processing charges required to book a car. According to the process, it is required to submit your credit point report generated by any bank governed by the federal government.
However, my credit score is below average due to some technical problems. I plan to work on my credit score first, make it better, and apply again. As it is mentioned in the car booking application's prerequisites that the customer shall be required to submit a credit score report with more than [x].
Moreover, due to the surge in the economic crunch in the country and job insecurity, I plan to postpone buying a car. Thus, I request you to please cancel my car booking to avoid any further inconvenience. I have attached the invoice copy for your reference.
Car with reference no. [X], model [abc-xx], and model number [XXXP-SSD] were booked for my purchase. I will be grateful if you acknowledge the receipt of this letter and respond to my request at your earliest. If there is anything further that should be done and is formally needed, please let me know. You can use the same email to respond. Thank you.
Regards
[Name]
[signature]
Attachment(s):
Car booking application invoice.
Print/copy of the email of confirmation of the booking.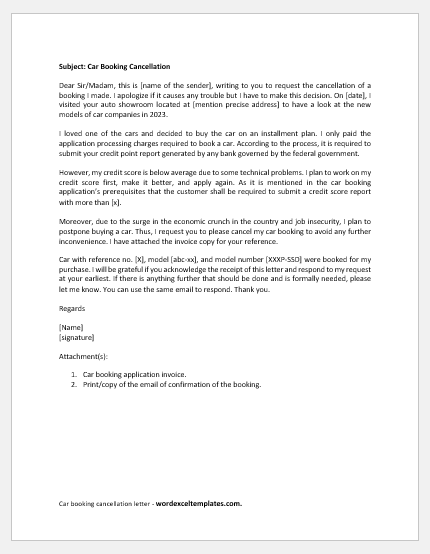 #2
Re. Letter to Cancel the Car Booking- Reference # [xxx]
Dear Manager,
First, I would like to appreciate your team of customer care representatives. I am impressed by the speedy service, quality of communication, and professionalism followed at your end. I am not only influenced by the professionalism of the team but also by their communication skills and client coordination.
Second, I would request you to cancel the booking of a car that I made on [date]. I booked a car under the name of [mention the name] on [date] which was to be delivered after one month. The car I booked has reference ID # [X], model # [X], model [X], and color [X].
Although I love the car, I am unable to proceed with the booking. I am moving from [state] to [another state]. Therefore, I have declined my plan to buy a car for a few months. I plan to settle in the new place first and then finance the purchase of a car.
I will, undoubtedly, refer your services to other people as a testimonial and will always consider your showroom whenever I plan to buy a car again in the future. I will be grateful to you if you confirm receiving my letter and advise me for further process to complete the cancellation.
Thanks and Best Regards.
[name]
[signature]
[date]
Attachment: copy of the invoice for the car booking application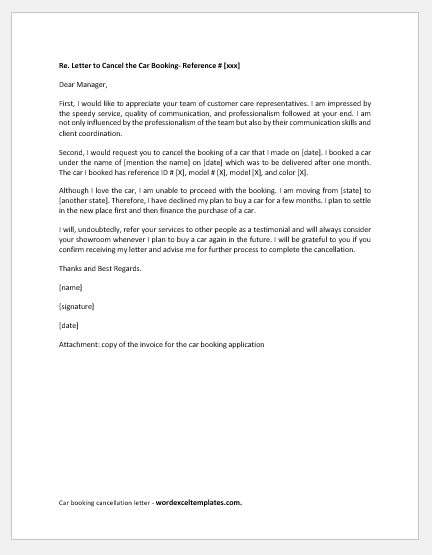 See also: