There are always some rules and regulations to follow no matter where you live. Whether you are a student of university or school or you are working in a company as an employee, you must follow the discipline and some policies related to the discipline. If you fail to do so, you have to face mild to serious consequences depending on the type and nature of the violation.
What is letter of apology for discipline violation?
If you are someone who has breached the discipline knowingly or unknowingly, you should write a letter of apology to demonstrate your expressions of regret.
In a professional world, it is expected from people that they will feel regretful and apologize for their wrongdoing. This is sometimes the only way to correct the wrong action. Whenever you find yourself in a situation where you have shown an open infraction, you must apologize by writing a letter or email.
What is the benefit of writing the letter of apology on violation of discipline?
Through this letter, a person manages to prove that he is embarrassed about whatever he has done. Sometimes, this is all the recipient wants to hear from you. When you say that with genuine emotions, you prove that you have a strong personality and you feel no shame in owning the mistake. The benefits of writing this letter are:
By writing the letter to express sorry, you prove that you are guilty of the infraction and you don't want to repeat this mistake. This way, you are likely to convince your employer into forgiving you.
The letter of apology also enables the sender to be comfortable again. It is basic human nature to feel uncomfortable when they know that they have done something wrong and other people know about it. By writing the letter of apology, they start feeling comfortable again and also makes other people comfortable with them.
There is no possibility for a trust deficit when you are so quick to express regret. If you are an employee and you say sorry to your boss for violating rules, your boss will trust you once again to give you another chance instead of terminating you from the job.
Sometimes, the violation is severe and you know that there might be some severe consequences too. If you want to avoid such outcomes, you must apologize.
How you should say sorry and what kind of letter you should write depends on the situation. For instance, if you have committed the same mistake twice, your letter will be different from the letter that you would have written if you had done that mistake for the first time.
Similarly, it also depends on how severe the infraction is. If you have something offensive and have ruined the discipline a lot, your letter will require you to add details differently.
Below is a sample letter that will help you learn to write the apology letter whenever it is needed especially when you ruin the discipline.
Sample letter:
Subject: Apology letter on discipline violation for [X]
Respected Sir,
I am writing this letter to express my sincere apologies for violating the discipline of the company. I did not know that my jokes will be offensive to my colleagues. I accept that my behavior was inappropriate and people around me have suffered because of me.  I am so much regretful for being this rude and annoying and I would like to let you know that I am ready to do anything to amend the situation.
I am feeling regretful about everything that I have done that has offended people around me. I assure you that I am taking the necessary steps to improve my behavior. I am hopeful that I will be able to show that I have changed myself. I am not fully aware of my flaws. No one is perfect in this world and therefore, I expect you to understand this and forgive me.
I understand that there is no justification for wrongdoings. I was never intended to jeopardize the work environment because of me. However, I take full responsibility for whatever has happened and I am sorry for this. This will not happen again
Sincerely,
Name of the employee
Designation in the company
Signatures
_________________________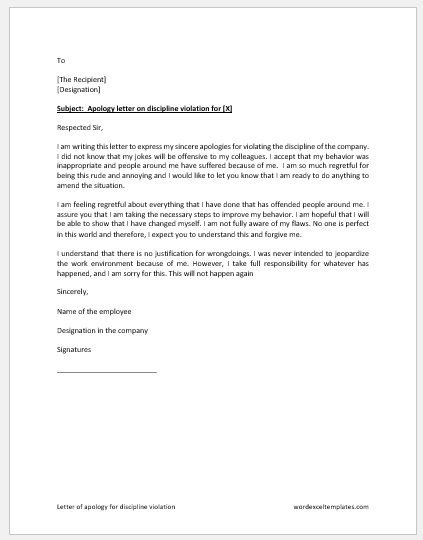 File: Word (.docx) 2007+ and iPad
Size 22 KB