Re. Freelance Video Editing Proposal Letter w.r.t. Project Advertised on Upwork on [date]
Dear [Client's Name], I am [Name], a full-time video editor and videographer with more than seven years of experience in video editing, quality enhancing, color enhancement, and many other works related to videography. I have worked with several companies and media agencies and have been working as a freelance video editor since 20XX.
As a freelance video editor, I have been providing my services and skills to clients from various backgrounds with varying needs and demands. I have worked on videos related to social media content like TikTok, Instagram Reels, and YouTube Shorts. Most of my work experience lies with YouTube as I worked for various clients who needed YouTube videos. I have edited raw videos for several years by providing color and quality enhancement to the videos.
I have gone through your requirements and instructions for a video editing project and I believe I am skilled enough to do this project in the given time frame. I have first-hand experience with video editing software like Adobe Premiere Pro, Nero Video, and Lumin 5. I have extensive experience with DaVinci Resolve and Final Cut Pro.
In this project of yours, I can provide the following services;
I can meet you virtually to discuss the current raw video, the idea behind it, the target audience, and recent trends.
I can enhance the quality of the video to a range of different quality pixels without pixelating the original colors.
I can edit the video right according to your requirements and demands by looking at what results you want to achieve through this video.
I am capable of using almost all the video editing tools and software, however, if you want me to use any singular software, I can do it without any hindrance or difficulty.
I can add motion graphics and different visual effects to the original video and make its visuals look better.
Moreover, I am capable of adding sound effects and enhancing the sound quality of the video which will be totally free with this project.
More editing if required would be done without any extra charges within the given deadline of the project.
I have gone through the terms and conditions of your project and agree to all the points completely. Moreover, rates of the project can be negotiated as I can decide on my rate after having a complete idea of what else is included in the project and what are the market trends. My rates compete with the market and I also provide discounts to my previous clients.
If there is anything else you want me to know about this project, please feel free to contact me at [email address]. If you approve my proposal, we can have a meeting on the weekdays at your convenience. Thank you for reviewing my proposal letter.
Thanks and Best Regards.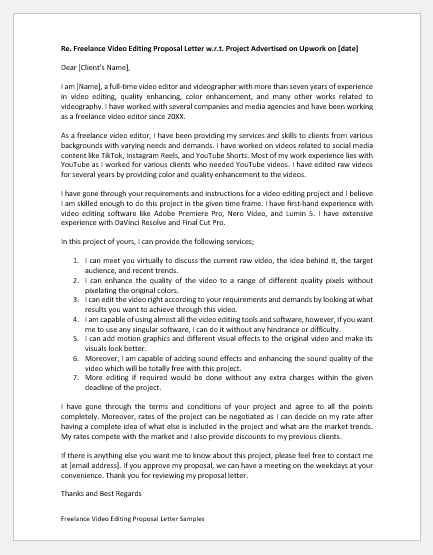 #2
Subject: Freelance Video Editing Proposal
Dear Client,
I am excited to propose my services for the video editing project you posted yesterday on the social media platforms of your studio. I have gone through important guidelines, requirements, and instructions to execute this project. As I agree to the terms and conditions of the project mentioned in the advertisement, I want you to have a look at my proposal and skills that align with your requirements.
I have [X] years of experience in video editing and quality enhancement. I have been working as a full-time freelance video editor for several years. I am a certified videographer with a badge of having done more than fifty projects on video editing and motion imaging.
As a skilled video editor, I pay much attention to the detail and colors of the video with the perspective of the idea behind a video. I am skilled in using different tools and software to edit the videos. I provide free consultations to my clients on video editing and videography and stay in constant contact till the end of the project.
I have experience with different kinds of formats of video editing including commercial videos, documentaries, Instagram Reels, and YouTube videos. I have worked on several genres including story-telling, informing, moral concepts, educational videos, and entertaining content.
My rates are varying and are competitive depending on the extent of complexity of the project, the amount of editing required, and further requirements of the clients. However, I am open to negotiations on the rates of the project. I also provide various discounts on future projects to my clients.
If you have any further questions, I am available at [email address]. Thank you for considering my letter and reviewing it. I am anticipating working with you to turn your idea into reality.
Sincerely,
[Name]