Employees are the building blocks of any organization or institute because they lay the foundation of hard work and enthusiasm for constructing a whole building. Hundreds of employees in multinational companies are managed through rigorous systems of worksheets and schedules. It can be a tiresome task to make sure that every employee is accounted for and work is being done smoothly.
What is an employee working schedule timesheet?
Working schedule time sheets for employees are simple documents for tracking the working hours of employees and scheduling each employee in such a manner that a designated employee workforce is present during a given time. It is important for organizations to have enough employees at all times so that the efficiency of work is not halted. All employees have a specific arrival and departure time, along with their specific job description.
Key elements of a working schedule timesheet for employees are as follows:
Identification: The name, department, and job description of every employee are mentioned on the timesheet to clearly identify each employee separately.
Timings: The arrival and departure times of employees are filled by themselves while starting and ending their working hours at the workplace.
Working hours: The working hours of each employee are calculated and mentioned on the time sheet.
A simple template of the employee work schedule time sheet is given below.
| | | | | |
| --- | --- | --- | --- | --- |
| Name | Job description | Time of arrival | Time of departure | Working hours |
| | | | | |
| | | | | |
Sample
The above-mentioned template can be altered to add information like shift number, total number of employees in a shift, department of each employee, and total number of employees in a given department.
The spreadsheet is helpful for employers
Working schedule time sheets have helped employers significantly because of the following reasons:
Employees working at a given time can be easily calculated by noting their attendance on the time sheet. A designated employee force works together to make it happen and complete projects ahead of time.
It helps in calculating the wages of every employee based on their total working hours. Employees working overtime earn more than employees working regular hours.
The absence of an employee or the total number of working days can be easily calculated. Employees are allowed a limited number of vacations; therefore, if they have more absences, their wages can be deducted.
The total working hours of a week are assigned by the government to make sure that nobody robs employees of their basic rights; therefore, it is important for organizations to manage time sheets and follow the guidelines of the government in this regard.
Time sheets are simple documents yet they can manage hundreds of employees on a few papers. The ease and organized features of working schedule time sheets make them a hit in organizations.
Designs
Working schedule time sheets can be easily made on a spreadsheet. These are simple sheets; therefore, it is not necessary to beautify them using images or graphics.
Moreover, the internet provides thousands of free templates that can be used easily. A template just requires the input of the desired information, and it can be printed as a hard copy or used as a soft copy. Templates are editable, and their design, font color, and size can be changed using simple applications.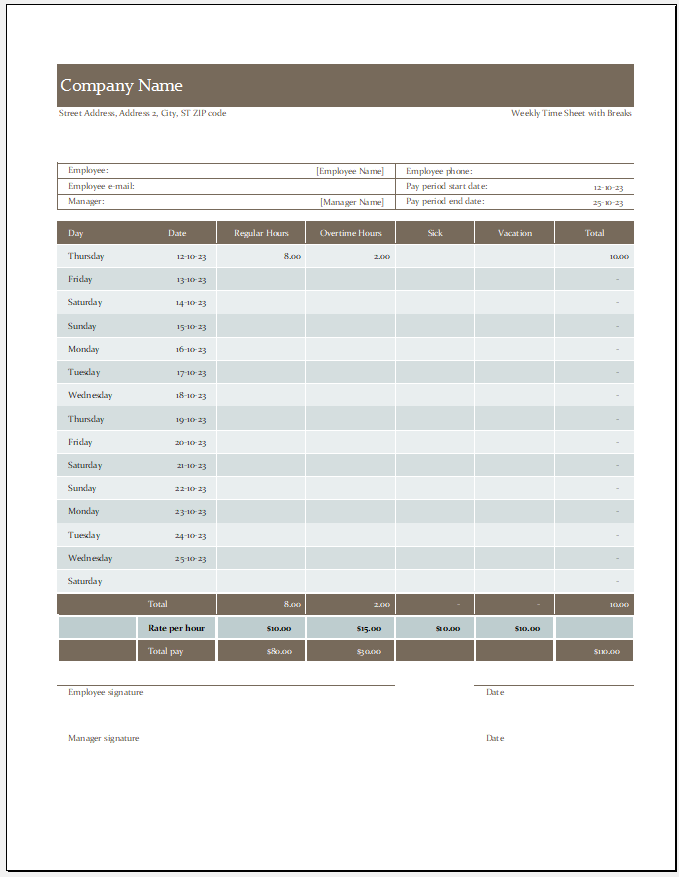 MS Excel Spreadsheet
File Size: 59 KB