It is essential to keep yourself updated and on time while you are going to college or you give lectures in a college. Keeping a track of all your classes is a healthy attitude to adapt to your college life. Being on time allows you to excel in every field of life, whether it is personal or professional. Keeping a schedule of your class will allow you to keep up with the college proceedings as well. Having a schedule will not only save you from the hassle of missing the important stuff but will help you to manage your time as well. One of the best things with the classroom schedule is that you can have a template designed for this purpose named as classroom activity schedule template.
What is a classroom activity schedule template?
It is a template that is designed especially for the students so that they can manage their time on a daily, weekly and monthly basis. This schedule allows you to divide your hours of the day properly. You can allocate proper hours for studying, playing and resting. This template allows you to plan before time, making sure that you enjoy life to its fullest.
Classroom activity schedule templates are available online as well. You can download and customize them as well. Our designers have designed some templates for your ease and convenience. These templates are extremely easy to use and editable as well.
The template is designed by keeping your daily, weekly and monthly needs as a major priority and ensures that no time of yours is a waste. In the template, you can divide every day into hours. The number of classes can be adjusted easily within the template. The time interval can be modified according to the user's needs. The template can be modified according to the daily, weekly, and monthly schedules easily. This activity schedule template is a great template to have since it saves time and makes life free of worries.
Preview and Details of Template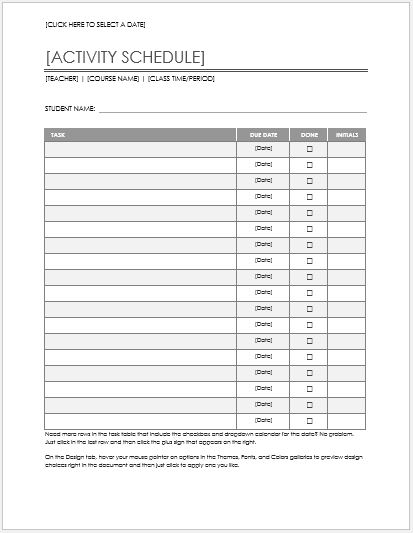 Classroom Activity Schedule Template
File: Word (.doc) 2003+ and iPad 
Size 44 Kb | Download
License: ENERGY [Personal Use Only]