No house can be kept clean by the servants and maids alone. The house members can keep the house cleaner since they own it and they know the level of cleanliness that they want. But if you have a large house with many residents, or you live in an apartment with your friends or mates, then the cleaning and other chores can be divided among the residents on a daily, weekly and monthly basis. Those who cannot afford a maid or cleaner can help themselves if they divide the work and do that on daily basis. In this way, the work would not be a burden on a single person. The house will be kept neat and clean and you will save money as well if you divide the chores of the house.
To make this happen you can make a cleaning schedule on a paper but you have to take care of it all the time. It will take a lot of time to be made and you probably might mess it up. To save you from losing all this time, cleaning schedule template is designed.
What is a Cleaning Schedule Template?
A cleaning schedule template is a spreadsheet that is designed to divide your house chores into individual works and assign an individual a single task every day of the week. The confusion and time wasting can be avoided by using this template. This template has columns where you can enter all your house chores from cleaning to dusting, vacuum to dish washing and then assign every individual a task. You can have an extra column for the days and weeks as well. The template is designed keeping the daily, weekly and monthly needs on a priority basis.
Here is a sample of cleaning schedule template which is designed by our team. This is designed so you can use it easily without wasting any time on making a new one. You can customize it as well according to the number of cleaning chores and the number of individuals. It is easy to use, customize and download.
Preview and Details of Template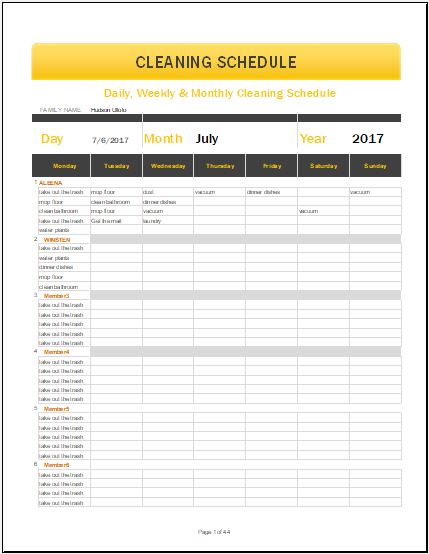 Cleaning Schedule Template
File: Excel (.xls) 2003+ and iPad 
Size 31 Kb | Download
License: ENERGY [Personal Use Only]