A bill payment checklist makes it easier for its user to track and keep the record of all types of bill payment every month. The user can simply have this checklist and can keep an eye on all the due dates and payments for each month. In other words, this checklist proves to be handy when referring to the bill payments in any way.
We all know that people around the globe have to keep a track on due dates of every type of bills. If someone wishes to make this hassle a bit arranged or manageable, he should go for bill payment checklist template. Just by jotting down all the details related to it on a piece of paper, monthly bills can be easily organized. This can not only ensure that all the bills are timely paid, but also that the cash or budget is wisely managed.
Template
This template can include the list of payable bills, due dates, the budget allocated to each of them and the information about accrued or advance payment. Apart from controlling the expenses allocated to bills for each month, it can prove to be a ready-made scheduling tool.
This checklist is drafted in column format. The top of this checklist is allocated for the name of the month and year to which it belongs. The first column, however, is for the names or a list of the bills needed to be paid. Make sure that every bill that is to be paid should be added to the list. The next column should bear the due dates of each bill. Next to which should come the amount to be paid. After that, the column should mention about the mode of payment. The coming columns should show either the names of months or weeks, depending upon the nature of checklist whether it is a monthly checklist or yearly. Each column should have cells to be ticked. The last column should have enough space for any notes or descriptions to be written about each bill.
Preview & Details of Templates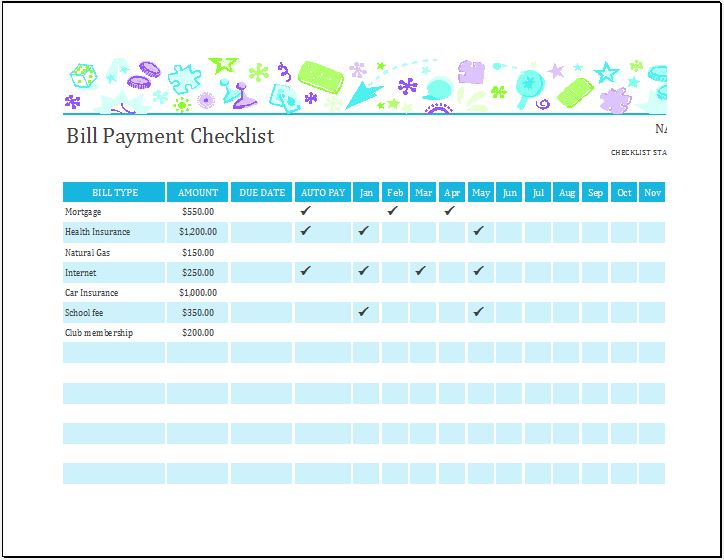 Bill Payment Checklist Template
File: Excel (.xls) 2003+ and iPad
Size 41 Kb | Download
License ENERGY [Personal Use Only]
[Not for resale & distribution]
---

Bill Payment Checklist Template
File: Excel (.xls) 2003+ and iPad | Size 43 Kb | Download
License ENERGY [Personal Use Only] [Not for resale & distribution]