In order to manage the balances of a business effectively, every business is required to have an account receivable and payable aging sheet. The account receivable and the payable aging sheet can be expensive, however; not every business can afford to keep one. It becomes easy to manage the aging invoices when you have an account receivable and payable aging sheet in use. This sheet is created in the form of excel spreadsheet. This kind of sheet is very helpful when you want to have a good control over the processes related to the accounts and receivable being conducted in the company.
The 'prepared by' and 'reviewed by' signatures date have made it easy for you to use it effectively. It can be the most efficient tool which you can use to keep track of the money which you have paid and also the money which is due.You can quickly maintain the AR aging up after completing it within no time. The account receivable and the payable aging sheet can be the best tool which can be used by administrative and operation departments of a company in the process of decision making. With the help of this sheet, you can easily do the following.
There are several payment details which should never be ignored at any cost because the longer they remain unpaid, the more difficult it will be to collect them. In order to collect the due payment on time, you can use this payable aging sheet. It keeps the complex and large information of the company updated and makes it easy for the person to remember all the payment details of the business.
It is also very important to ensure that the customers who are slow in payment pay in completing before you make large sales to them. This sheet filters the list of customers and sorts the customers out in an order so that the slow paying customers can be detected soon and then the company deals with such customers accordingly.
There is always a need in a business to set up AR reserve because the collection of payment receivables is not guaranteed every time. With the help of this sheet, you can easily calculate the reserves with accuracy.
You can also test your aging system through this sheet. Sometimes, a businessman hires auditors to do the auditing of the business. The auditors require the account receivable and payable sheets to conduct the analysis.
If you are inexperienced and do not know how to create the receivable and payable aging sheet, you can get one from the internet. There are many websites which allow you to use the template free of cost. Some websites also provide with the templates which can be customized easily and can be used easily. All you have to do is to input the data and all other output will be generated by this template. It is very important to input the right information to generate the desired results.
Preview & Details of Template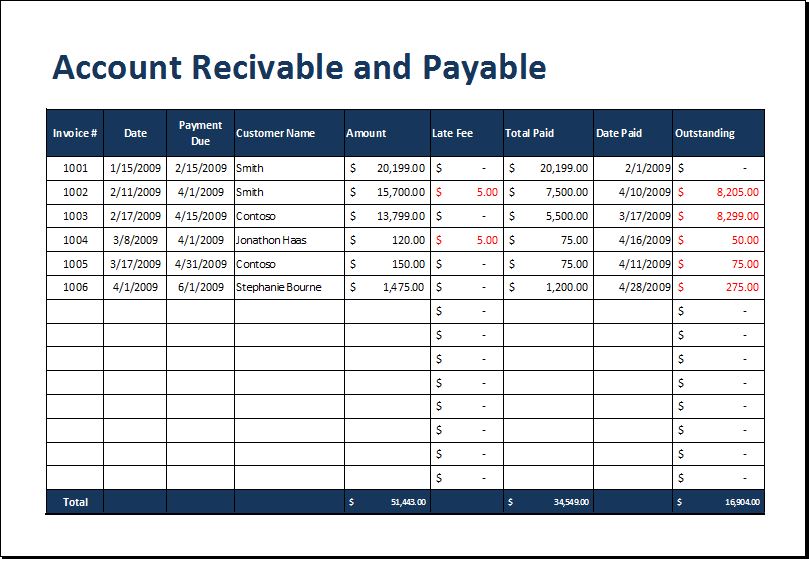 File: Excel (.xls) 2007+ and iPad
Size 32 Kb   |  Download
File: OpenOffice (.ods) Spreadsheet [Calc]
Size 12 Kb   |  Download
License: ENERGY   (Personal Use Only)
(Not for resale and distribution) by Kate Elizabeth(CEO)