The best way to remain in your position if you are on top or to grow quickly is to keep an eye on the competitors. The best way to get information about important competitors is to perform a competitive analysis.
The information obtained from the competitive analysis can be used to anticipate the behavior of competitors which will ultimately lead you to make good decisions in your business. The competitive analysis sheet enables you to see how your company rates against the competitors by considering all the aspects.
The purpose of carrying out the competitive analysis is to know who your competitors are and what their strategies which they have planned for the future are. It also sees how competitors react to their company's actions. Competitive analysis is not an easy task rather you will have to check annual reports of competitors, press releases, patent applications, etc.
With the help of a competitive analysis sheet, you can define your competitors. Competitors are usually those companies which produce products similar to you. Their products and services are a good substitution of your products and their products can also influence sales of your own company. Since the competitive analysis sheet enables you to define your competitors, the sheet is completely based on the performance of your competitors.
In this sheet, your top competitors are listed. You can assign marks or ratings to each competitor according to their performance. There are different types of questions in the analysis sheet which have three options. You have to choose any one of them according to the performance of the competitor's performance.
Making a comparison with competitors is very useful as it allows the company to bring improvements in its policies to improve sales. There are some benefits to competitive analysis sheets.
Competitive analysis sheets are used for the management of the company which is responsible for making the strategies for the company.
The opportunities available in the market are also identified which a company can avail to improve itself.
You can also take advantage of the weaknesses of the competitors and can grow more than your competitors.
The competitive analysis sheets enable you to make better decisions regarding your strategies and it also ensures that you can create competitive advantages that can be sustained for a long period of time.
You can also forecast the conditions of the future which will be helpful for you to make decisions regarding investments. You can also predict the future of the competitor so that you can adapt yourself to the changes which will be brought in the market due to the planned and changing strategies of the competitor.
There are many sections in the competitive sheet which cover different areas. The mains sections are based on the profile of competitors, the marketing profile, profile of products, SWOT profile, etc.
Preview & Details of Template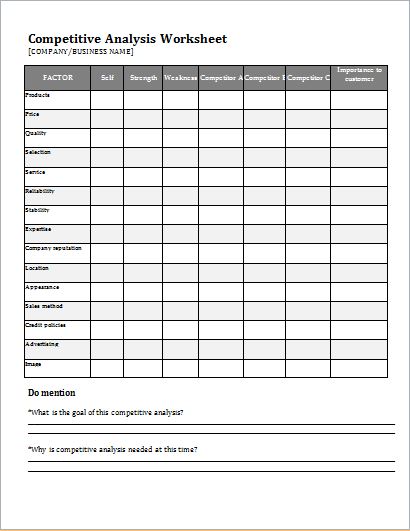 File: Word (.docx) 2007+ and iPad
Size 32 Kb
Download
File: OpenOffice (.odt) Writer [writer]
Size 12 Kb
Download
License: ENERGY   (Personal Use Only)
(Not for resale and distribution) by Kate Elizabeth(CEO)
---