Zeroth Birthday Flyer Template
Birthday Flyers
Birthday as evident from the word itself expresses the date on which a person is born. All over the world, people celebrate their birthdays with joy and pleasure. This is one occasion in people's lives that is celebrated without any differentiation of religion, ethnicity, caste or nationality. In every corner of the world, birthdays are celebrated and enjoyed in the same way.
Many people argue that birthday is actually the day of birth while people across the globe call it the anniversary of the date of birth. The first birthday is celebrated after completion of one year. So the actual day when a baby is born is the zeroth birthday of the person. You can celebrate the zeroth birthday in several ways like cutting cakes, using the zeroth birthday flyer and inviting and informing family and friends.
The zeroth birthday flyer is a good way of spreading the word around your community about the birth of a child. Although these flyers are not a very formal document they can be used in many effective ways. You can simply add information about the child's birth, time of birth, zodiac sign, blood group etc. You can also add a picture for the people to have a glimpse of the newborn baby.
Overall we find that zeroeth birthday flyer is very useful as an informative tool for the baby.
Preview and Details of Template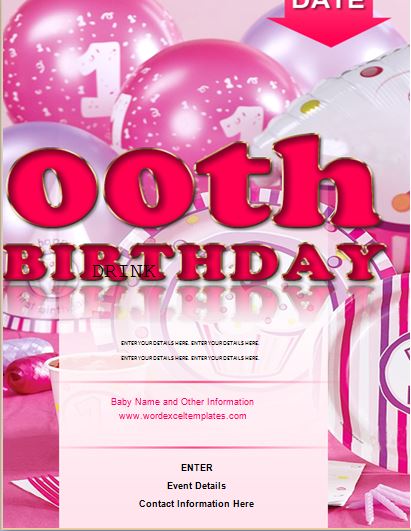 File:Word (.doc) 2007+ and iPad
Size 375 Kb   |   Download
File: OpenOffice (.odt) Writer [Writer]
Size 346 Kb   |   Download
License: ENERGY   (Personal Use Only)
(Not for resale and distribution) by Kate Elizabeth(CEO)