BUSINESS ACCOUNTS
For any business or for any organization it is critical that they make sales and some profit to ensure their place in the market and their running. For this various tactics are used and customers are brought in the business which then provides sales and profits. Many organization and businesses have to have an account in which details regarding every client and the sales that have been made to the account along with what has been brought and the details regarding the client are to be maintained. This account is critical for the business since it is this account that helps the organization to run.
ACCOUNT STATEMENT
In order to keep a check and balance and for the maintenance of an account, a statement of account template is made by the organization or business and made in use.
This statement of account template is used for every client and consists of details such as the name and number of the client, what has been sold to them and on how much quantity, how much amount has been brought to the business because of this particular client and on an average how much is spent to keep this account. Because businesses and organizations don't have a lot of time on their hands and neither do they want to make use of a lot of resources, they make use of a template which helps them to make use of it for every client that they deal with. This is easier and very cost effective.
PREVIEW & DETAILS OF TEMPLATE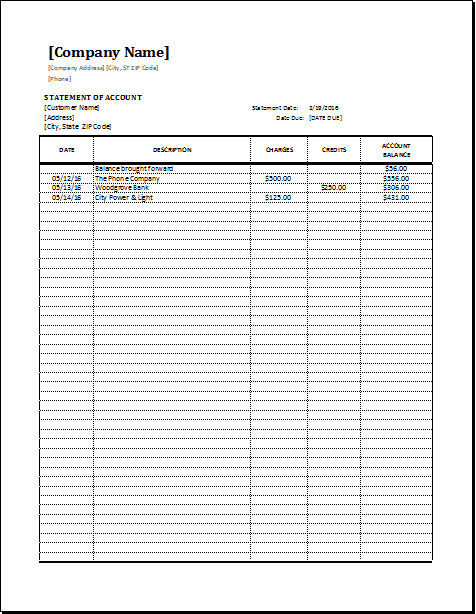 File: Excel (.xls) 2007+ and iPad 
Size 34 Kb   | Download
File: OpenOffice (.ods) Calc [Cal]
Size 18 Kb   | Download
License: ENERGY  (personal use only)
(Not for Resale & Distribution) by Kate Elizabeth(CEO)