Working Hour Schedules
To keep the order and availability of staff at work 24/7 requires the presence of shift schedule. Changing shifts of the workers are very important as it helps to keep someone at work at all times. Sometimes employees go on leave or vacation, for that too, it is needed that you have the schedule that could help accommodate in such situations. Keeping all in mind it is necessary that you have a foolproof schedule for the shifts of people working.
Shift schedule template for orderliness
The shift schedule template that is designed by us is perfect for use in the service providers 24/7. You can have some or the other employee working at all times.
The best thing about this schedule template is that it keeps the employees informed about the times they have to work so that they could make arrangements for that time.
Even if the employer is unavailable for two or three days due to any personal time, at least he would be at ease that the employees will keep working even if he is away.
The shift schedule template is a blessing for both employees and employer. The employees can make a proper timetable to follow according to their work hours whereas employer gets his business keep going without any break due to unavailability of the workers. This means if you are the. The employer then the best move for you is to have the shift schedule template as it would bring ease to you assigning work and maintaining a balance.
Preview and Details of Template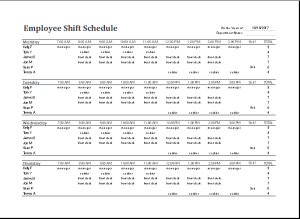 Employee Shift Schedule Template
File: Excel (.xls) 2007+ and iPad 
Size 58 Kb   |  Download
File: OpenOffice (.ods) Spreadsheet [Calc]
Size 20 Kb   |  Download