Scoresheet
Mexican Train is a famous game which is played with dominoes. This enjoyable game allows its players to play all the dominoes from their hands onto one or more chains also known as trains that are coming out of the central hub or station. The name of the game is so because the special train belongs to all the players. There are rules for playing this game like how dominoes are to be placed and how the game will be scored. For keeping the scoring fair and reliable, a scorecard is drafted. This is basically used for recording the scores of the players and it usually includes the number of players along with the scores.
This game has thirteen rounds, and scores are jotted down after each round finishes. The player going out is given zero points while all the other players receive the sum of all the dots on their unplayed dominoes. The player with the smallest sum of dots is declared as the winner of the game. In the case of a tie, the player with most 0 points will be the winner. This complex system of recording the scores must be recorded in a very sophisticated scorecard or scoreboard.
About Template
Here enters the template for Mexican train score sheet, this template can be drafted manually, electronically or simply downloaded from the internet. By using the template it can be made sure that all the elements are included and no mess is created while jotting down the numeric in the game. A typical and well-balanced template of the Mexican train score sheet consists of columns and rows, making cells like an excel sheet. The rows are divided into two sections and each one has numbers from 0-12 running in a descending order. In front of these numbers are the boxes or the cells to be filled in by the score obtained by each player. The name of each player is usually written at the top of each column. At the end of the score sheet, the row for the grand total is maintained where the sum of scores is written and which declares the winner.
Preview and Details of Template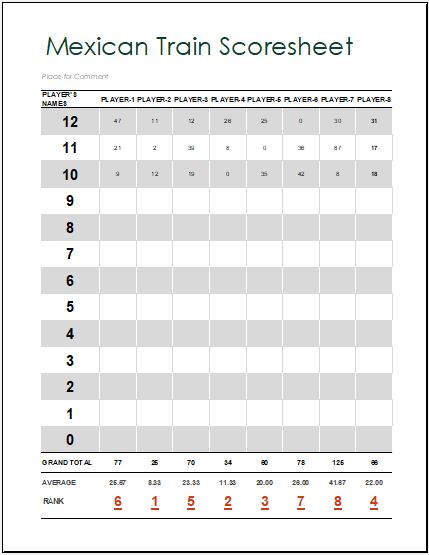 Mexican Train Score Sheet Template
File: Excel (.xls) 2003+ and iPad 
Size 24 Kb | Download
License: ENERGY [Personal Use Only]