Sign-off sheets are used in every field, however; it is most commonly used in business and household. It is a sheet where duties and tasks assigned to the individual or what needs to be done are written and after the completion of each task in due time, the employee or the person is expected to sign on this sheet. By doing this, one can enjoy the sense of completion and can transfer his concentration to the other task. When used in businesses, it can maintain a good office environment and can motivate the employees while when used in the household, it can make everything smooth and easily manageable.
This sheet can be utilized in so many useful ways like other than creating a motivational vibe and driving the concentration of the person in charge, it can also work as evidence in case the task goes wrong or there is a need to check that who did a certain task, the manager or the checker only needs to put the sign against the certain task. This means that the person who signs on this sheet declares himself to have the sole responsibility for the said task.
The best way to keep a good record of all the tasks done and needs to be done is to use a template for task sign off sheet. This makes sure that all the information needed is there and a set format is followed. A basic, simple and typical template needs to have a few elements like the name of the company or firm if the sheet is used in an organization, the date and time column this column will show the due date and time in which the task needs to be completed along with the date at which the task is assigned. A column for the details of the task to be performed, another for the name of the employee or the person to whom the task is assigned to and the last column should be allocated to the signs of the person in charge of the task.
Preview and Details of Template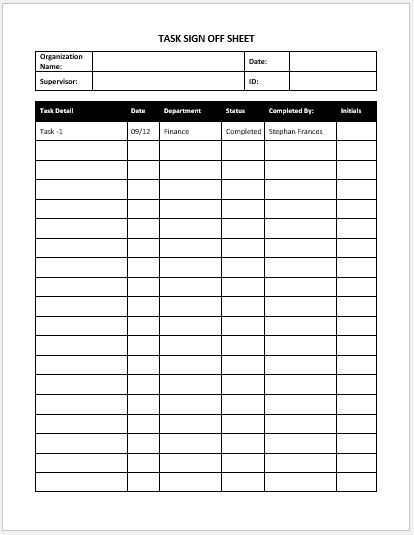 Task Sign-Off Sheet
File: Word (.doc) 2003+ and iPad 
Size 24 Kb | Download
License: ENERGY [Personal Use Only]