Attendance Sheets
The importance of attendance is not unknown to the world. Whether it is class attendance at any institution or work attendance at the office, it is an important part of the whole organization. This attendance is a simple and effective way to keep a track on the participation and contribution of each employee in the success of the company. For this purpose an employee attendance sheet or the office attendance sheet is used, it is a useful document that marks the presence, absence, and leaves, etc. of all the employees and is used later on for the purpose of payroll or salary calculation.
All the markings like absence, late comings, holidays, training sessions, paid leaves and other kinds of leaves that an employee utilizes are used by the heads of the payroll heads to calculate the accurate salary of an employee. In old times, attendance was taken physically on a sheet of paper or a register where each employee would sign against his or her name. With the passage of time as the technology took over, these attendances started to be maintained on computers which are obviously a better, convenient and less time-consuming way.
An Attendance sheet helps a lot in keeping a close eye on the employee's presence and an immense increase his performance and in turn in the performance of the company itself. An easy way to get maximum benefit out of this office attendance sheet is to use a very technically made office attendance sheet template which can help the accountants in calculating the salary and also the office administrators or HR Assistants in Employee benefit related records.
A basic office attendance sheet consists of a few mandatory elements like header section where the name of the company is mentioned. Another is the employee's detail section where the name, id, department and the designation of the employee are written. An attendance record section shows the heading of the month and the number of days it has and all the records of absence or presence, etc. is marked. In the last summary section, the percentage of each employee's presence should be calculated.
Preview and Details of Template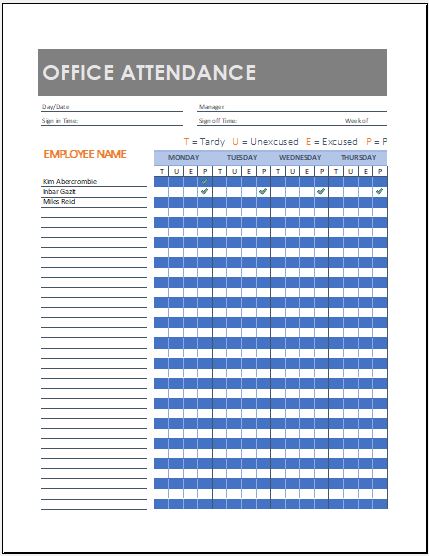 Office Attendance Sheet Template
File: Excel (.xls) 2003+ and iPad 
Size 24 Kb | Download
License: ENERGY [Personal Use Only]