#1
Hello [Supervisor's Name],
I am sending this letter to you about a serious concern that has impacted the positive working culture in our office. The matter relates to the retaliation of the employees under your supervision. Matters related to retaliation are always considered to be very serious and delicate and can potentially lead to unfavorable circumstances.
Based on my observations and conversations with other colleagues, it has come to my knowledge that there is retaliation related to office policies, harassment culture, and other disciplinary damages. However, the issue has been brought to me, and I have tried to come up with certain solutions to deal with workplace retaliation.
While I cannot provide specific details or names at this time, I wanted to bring this matter to your attention so that you can take appropriate action to prevent any retaliation from occurring.
This may include reminding employees of the company's policies on retaliation, providing training on how to handle complaints and conflicts professionally, or taking other steps to ensure that all employees feel safe and supported in their work.
I understand that this may be a sensitive issue, and I want to assure you that I am committed to maintaining confidentiality and protecting the privacy of all parties involved. However, I believe that it is important to address this matter proactively to prevent any negative consequences for our team or the company.
Thank you for your attention to this matter, and please let me know if you have any questions or concerns.
Best regards.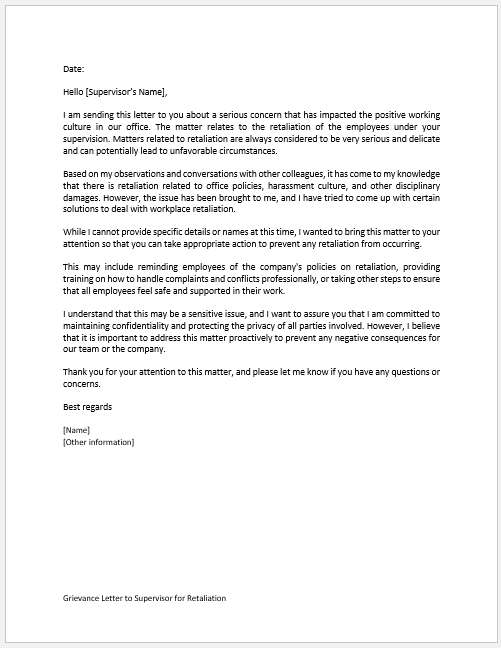 #2
Hello [Name],
I hope you are fine. I am sorry to disturb you while you are on leave, but I had to bring a matter of serious concern to your attention for its professional solution and careful handling. There has been reported workplace retaliation in our office, which has impacted the professional behavior of our employees and the positive work environment in the office badly.
The concern does not stand alone on the pillars of retaliation; also, there has been grouping inside the office, and a culture of leg-pulling, harassment, unprofessional name-calling in the name of jokes, and non-cooperation is being promoted by certain employees.
Our office retains a code of conduct and has a policy that states to terminate the employee directly whoever tries to create and promote an ill will and bad air in the office environment. However, this matter relates to more than ten employees, and I want this to be solved on an official and careful basis.
If the matter did not stop here, it would cause further problems in the office. We can expect further disputes, terminations, mass disciplinary measures, and more. To resolve the matter, I want to call everyone to an official meeting where all these things will be discussed.
Please let me know of your availability so that I can schedule a meeting and resolve this matter at the earliest possible time. As you know, our company takes matters of unprofessionalism, ethical concerns, and office disputes very seriously. I will be grateful for your earliest response. Thank you!