Customer Information
Customer information forms are one of the basic components of the documentations being used in any business. The better a business know about its customers, better it can serve them. Basically, there are four types of information which a customer information form is intended to collect which are given below:
Basic information:
Collecting basic information including contact details of the person is most solid information that helps the business staying in contact with its customers. Name, address, phone number, contact details, email address and some other details are included in this section of the form.
Business specific information:
Business specific information is needed to be provided by the customer so that the business can serve them in a best possible way. This type of information depends on the type of business and includes the details related to it. For example, if the business is about auto maintenance, the form may ask the customer If they prefer synthetic motor oil or any other type of oil for their vehicle. Collecting the specific information of the business enables it to know if it is having right conversation with the needs of the customers. You can also know about the needs of customers and ability of your business to meet their needs.
Information about the background of the customer:
This section of the form asks for the information based on the past experience of the customer. You may want to collect the information about the past experience including issues, resolutions, likes and dislikes of the customer. You can also know if the user has interacted with your business before. This information is very useful to address the needs of the customers and to fulfill them.
How to design a perfect customer information form?
There are lots of factors which are required to be considered while you are designing the customer information form. The form that you design should be very comprehensive. You should collect all the information about the customer from start to finish. However, the form should not be too comprehensive that user feels tired of filling it. The customer information form should be designed in such a way that user feels comfortable while filling it. You should provide both hard and soft copy of the form to the user so that user can fill whichever copy he is comfortable with. Use the information to meet all the needs of the customers to that your business can grow. Some businesses also use the customer details form to get the reviews of the customers about business to bring improvement in it.
If you think your form is a bit complicated, you can add the instruction of filling the form. There are also many ready-made templates specific to your business which you can use if you want to save your time and money. If you are unable to find the template specific to your business, you can get a general customer detail form and then you can customize it according to your needs.
Preview & Details of Template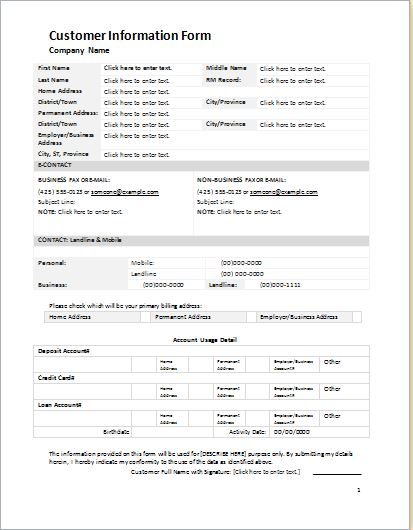 Customer Information Form Template
File: Excel (.xls) 2003+ and iPad
Size 32 Kb   | Download
File: OpenOffice (.ods) Calc [Cal]
Size 21 Kb   | Download
License: ENERGY   (Personal Use Only)
Distribution by Kate Elizabeth(CEO)