Monthly Billing Invoice Statement
Billing Invoice Statement
Monthly billing invoice statement is used to records all the purchases and invoices done in a month and this statement includes past, due, aging and remittance sections. You can record all the details about your customer's invoices spread over a month in this invoice statement. This invoice template is a document that is used to enlist each amount that is due, mentions if any previous payments have been made and then calculates the due balance.
The remittance sections of this monthly invoice statement are for use of customer to mention the amount of payment made by him. Monthly billing invoice statement is used as a notification that is sent to a specific customer to whom invoice has been sent but his payment is still awaited. And this is the customer who is continuously having transactions with us and is involved with us in continuous sale purchase and payment.
About Template
Monthly billing invoice statement acts as a summary information about the balance of this customer and is used as a request for payment of due balance. This invoice statement should be sent to the customer after a few days of sample invoice is sent before the closure of first billing cycle that is mutually decided with this customer. And just in case the payment from this customer is not received until the second billing cycle end, another billing invoice statement should be sent to this customer. Now this second invoice statement sent to this customer will be a step of what is called a collection process.
Preview and Details of Template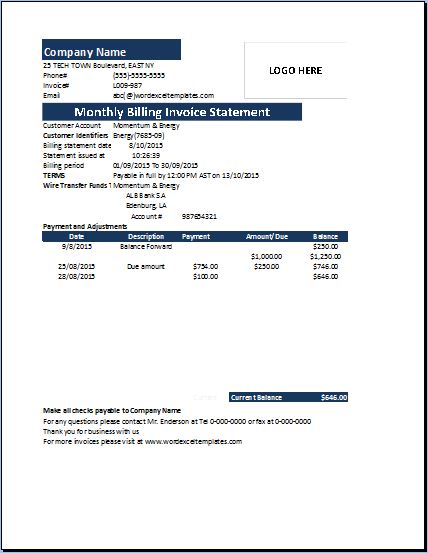 File:Excel (.xls) 2007+ and iPad
Size 32 Kb   |    Download
File: OpenOffice (.ods) Spreadsheet [Calc]
Size 23 Kb   |    Download
License: ENERGY   (Personal Use Only)
(Not for resale and distribution) by Kate Elizabeth(CEO)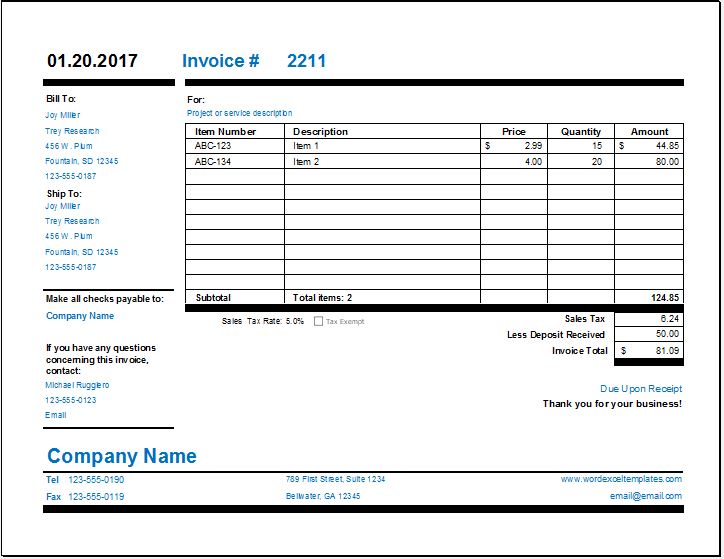 Service Invoice NEW-2017
File:Excel (.xls) 2007+ and iPad
Size 72 Kb   |    Download
Provided By: Office.com