We work in offices with many people at a time. Some are our junior and others senior. A good environment is developed when we behave well with others. We are expected to be respectful & professional at the same time while we are at the desk.
Sometimes a situation may come when we are not feeling good at work. It may be due to some personal reasons or because of the nature of the work we are assigned. We may get tense with the situation of being targeted towards completing a project.
The manager or senior official of the company assigns tasks to us or monitors whatever we are doing as a daily job responsibility. A situation may come when an employee shows disrespectful behavior towards a manager. Of course, this situation is not appreciated or tolerated in any professional environment.
In these circumstances, a warning letter is issued to the employee to be careful in the future. The following warning letter for disrespectful behavior can be utilized to write a good letter for you as a manager.
#1
We have received a complaint against you from your branch manager that on [date] you misbehaved with him. He told you to refill the spice rack but you did not do that when he inquired why you had had not done it, you responded rudely and an argument broke out.
This behavior is not acceptable as in all the branches of the store the branch managers are the team heads and their instructions are to be followed by all the store employees. In addition, customers were present in the store at the time of this incident and it must have left a very bad impression on them.
No one wants to shop at a place where there is conflict or noise and negativity. So your misconduct not only offended the Manager but also damaged the store's image. If one employee misbehaves with the manager, it undermines his authority and sets a tone for everyone else. Nothing can run smoothly if the hierarchy is not followed and seniors are not respected. If everyone starts disrespecting the seniors, there would be chaos and confusion resulting in a loss for the store.
You are advised to give your apology in writing to the manager. Also consider this your last warning, as a repetition of this behavior would result in termination of your work contract. Looking forward to a positive change in your behavior.
#2
It has been brought to the bank administration's notice that on [date], a client had an issue with you and complained to the manager that you had processed their debit card issuance very slowly. Instead of the standard seven days, it had been a month and their card had still not arrived for which they blamed you. When the Bank Manager called you and inquired about the reason for the delay. You were rude and started misbehaving with the manager in front of the client.
This is highly unethical and unprofessional as not only did you undermine the manager's authority but also damaged the Bank's image in front of a client. This kind of attitude would not be tolerated and consider this letter as your first and last warning.
If we get another complaint of this type, we reserve the right to take strict action against you. In addition, you are required to write an apology letter to the manager and ask for his forgiveness.
No workplace can prosper without a positive relationship between the employees. Negativity is bound to affect the quality of work and services provided by you. We expect better behavior from you in the future. Do not let your temper get the better of you. If the workplace has a synergetic and positive atmosphere, everyone benefits from that.
Looking forward to better behavior from you next time.
#3
Subject: Admonition on Disrespectful Behavior
Dear Mr./Ms. [INSERT NAME HERE]
We are quite disconsolate on the incident that happened last day of your misconduct towards the company manager. Mr./Ms. [NAME HERE], you are a very conscientious and dignified employee of all, but we were unable to surmise that the disorderly conduct was breached by you.
We received this information from the CCTV camera of the office and from witnesses of that disquiet occurrence. It was done between the crucial working hour of [TIME] am/pm, on [DATE] after [TIME/EVENT]. The expression observed was dissonant and was against workplace professionalism. Mr./Ms. [NAME HERE], you need to review the employee directive treatise which propounds the professional courtesy code towards your coworkers and supervisors.
With due respect Mr./Ms. [NAME HERE], you need to reconsider your misconduct and try not to violate the employee code of conduct. If you have any disagreement with your confederates or administrators, please write to the Director for assistance. Otherwise, if the contravention occurs again, the company will be obliged the termination the one who does the breach again.
Sincerely,
[Manager Name]
Preview and Details of Template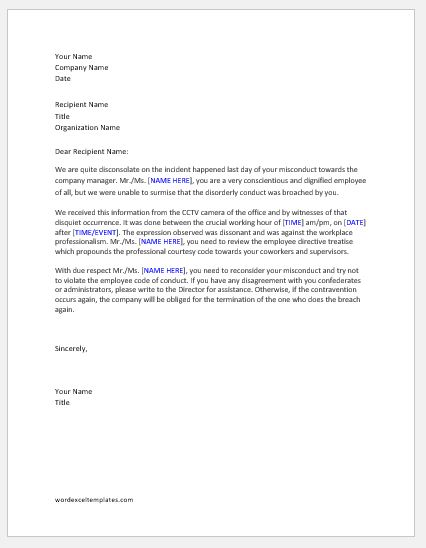 File: Word (.doc) & iPad 
Size 66 KB
See also: