As we know that the world is getting busier and busier every day so in order to keep track of all the procedures to be followed or all the tasks to be completed, an order form is filled in. A business or an individual must keep a track of all of its activities so that it may be checked later on. Vehicle service order form fulfills the same purpose for the entity or even the car owner. This form may be issued by the car owner to the contractor or the service provider with the details of the repair or service tasks to be done in the time he deems appropriate. This may also be prepared by the service provider himself so that a list of tasks is there to tick off after completion. This also works as a permission form as the service provider may ask for permission from the client before doing a task. Another purpose of this amazing document is that the entity or the individual can estimate the expense that would be carried out during the course of this vehicle service.
A typical Vehicle Service Order form is a list of works to be done by the service provider along with the materials to be used for the purpose of exchange or repair and all the necessary provisions which the service provider needs to take into the account during the work on the vehicle service job. In order to keep all the forms similar, the best way is to draft a template and fill it when needed. By following a template, problems like overburden of work or time consumption every time can be reduced.
Every vehicle work order form may vary from the other; this may provide information in detail like it may contain a description of the job done, the hour's labor took for completion of the job or even the rate at which the labor worked. In this way, the costs can also be calculated. This can, in turn, help both the parties for keeping a record of what has been done and what is yet to be.
Preview and Details of Template

Vehicle Service Order Form
File: Word (.doc) 2003+ and iPad 
Size 22 Kb | Download
License: ENERGY [Personal Use Only]
---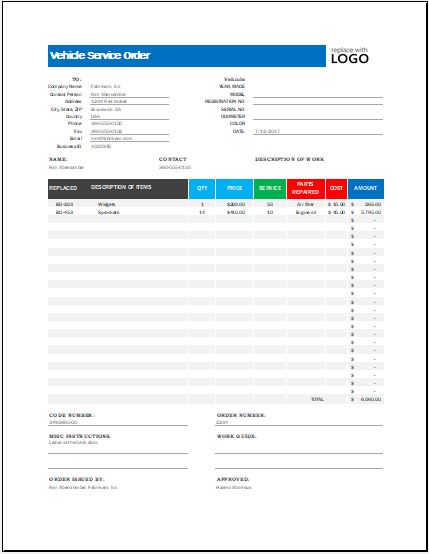 File: Excel (.xls) 2003+ and iPad 
Size 22 Kb | Download
License: ENERGY [Personal Use Only]