A request letter is an official way of asking the authorities such as bosses, the Human Resources department or other stakeholders to work remotely from a place other than the workplace. The reason can be various, ranging from unable to reach the workplace due to hazards to an outbreak of pandemic viruses, such as Coronavirus. Because of the current situation throughout the world, people have started avoiding crowded spaces and promoting social distancing; and the workplace is also one of them.
Employees don't feel safe going to work and prefer working from home instead. The best way to do so is to contact the employer through a letter or an email, and request for working remotely.
Covid-19 is the disease caused by Coronavirus and it spreads largely through coughing and sneezing. When a virus spreads, so do the rumors and fears. It is the company's responsibility to update their employees regularly about the facts and company policies regarding the pandemic disease, so their employees don't panic. Companies must ask the employees to stay home for at least 2 weeks, who have been in contact with someone exposed to the virus or have been traveling to a location that is at a high risk of being infected. Many companies are offering deep cleansing of workplaces and encouraging self-quarantining.
Sample Letter
Subject: Request to work from home due to Coronavirus
Mathew Charles
CEO
16th March 2020
Dear Mr. Charles,
I am writing to you concerning a recent situation that has occurred throughout the region. As you know, we are facing the challenges of a pandemic spread of disease, Covid-19.
I think it is best to avoid social contact as much as possible to stop the spread of this disease. I would like to request you to allow me to work remotely for the next two weeks, starting from 17th March 2020. Considering the situation, it would be best to avoid risks of exposure to the virus. I would like to apply the same policy for my team as well and request you to consider my team working remotely too.
I will return to the office on the 30th of March, 2020.
Meanwhile, if you need anything from me, I will be accessible through email and phone at any time, during the working hours.
I assure you of our dedication and accessibility to fulfill our work commitments.
I would really appreciate it if you would help us all to be safe.
Regards,
Mariah James
Senior Manager
443-333434343
Email: [Email]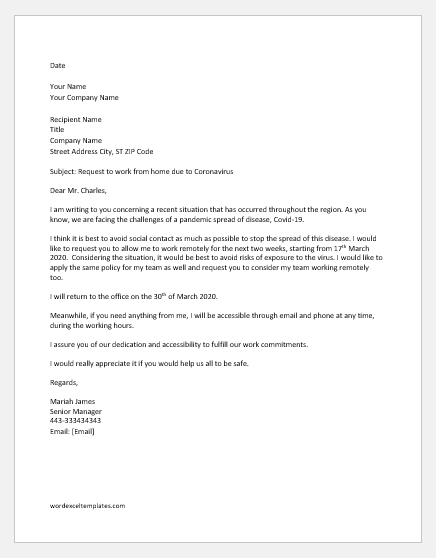 File: Word (.docx) 2007+ and iPad Size 27 Kb |
Download
---
More Letters
Sample -1
Owing to the widespread threat of the coronavirus in our city, I request your permission to work from home as a precautionary measure. In fact, the management should allow the entire office team the same for the sake of everyone's safety.
As you know, the situation is turning dire all around the globe. Health authorities have been suggesting limiting social interaction. By working from home, not only will we be able to avoid contact with other staff members, employees who take public transport to the office will also be safe.
It is, therefore, requested that the management come up with a plan that allows employees to work from home without affecting the overall productivity.
Sample -2
In view of the current Covid-19 Pandemic, a large number of offices are allowing employees to work from home. It is requested that our company also permits the staff to perform office tasks from home. This important safety measure is of the utmost importance in order to curb the further spread of the disease.
As per the latest news, the number of affected individuals has jumped to 52 in our city within the last 2 days. The urgency to avoid public places is evident. I implore the management to give consideration to my request for the sake of the safety of the entire office team.
Sample -3
I respectfully request your permission to work from home for the next two weeks. The outbreak of coronavirus has reached our town and we must observe safety measures.
In addition to working in a crowded office from 9 to 5, I have to travel on the Metro bus to reach my workplace. Being exposed to public transport puts me at a higher risk of catching the virus. I, therefore, seek your kind consideration regarding my apprehension.
Hopefully, the condition will be under control in the coming weeks. Till then, I wish to work from home as a personal precaution.
I await your permission.
Sample -4
I regret to inform you that I will not be able to attend the office for the coming 2 weeks. My brother has been diagnosed with coronavirus. The rest of the family members, including myself, have been placed in quarantine for a period of 14 days. In view of these circumstances, I seek your permission to work from home for the mentioned number of days.
I shall be in touch with my team on WhatsApp and through emails. I will try my best to work efficiently and complete all the required office tasks on time.
Your cooperation would be highly appreciated.
Sample -5
The outbreak of the notorious Covid-19 has forced a number of institutes to close down. My kid's school is also off for a month until further notice. Since there is no one to look after them at home, I need to stay with them. Therefore, I seek your cooperation by allowing me to work from home until I make some other arrangements for my kids.
It is requested that you also consider giving official permission to work from home to all employees for a while. Many other organizations have already done so as a safety precaution. 
Your kindness and consideration shall be appreciated.