Prayer is real religion said by Auguste Sabatier. Prayer is a very important component of our life. Every culture has their own religion. And religion holds a lot of significance in the lives of individuals. Our life is surrounded by constant sources of inspiration. Some people take inspiration from music, some from arts and some people take inspiration from religion.
Whatever our religion might be, every religion has some common grounds. We have been created with a desire in our heart to worship. Whenever we face a bad situation in our life, we talk to different people and try to seek advice. But when we talk to God, only then we find peace. We see a lot of modern people do yoga and meditation to calm their nerves and maintain balance in their life. Balance can be achieved by praying to God and the following religion.
Communication skills are very important to excel in life. People with good communication skills do well in their jobs and education. In the same way, communication is the key in religion as well. Prayer is the way to communicate with God. Over the past centuries, different books have been revealed and whichever religion it might be, the importance of prayer is always highlighted. Our life takes turns. Sometimes everything is going so well and then suddenly matters start to turn around. This is the best time when we connect to our Lord.
Out of all the amazing benefits of prayers, one of the biggest benefits is that we have someone to ask from. When we ask anything in our prayers, it adds content in our life and we get this hope that we will get what we asked for. Another very important reason to pray is to build a relationship with God.
We read so many books on praying and its importance. But even then we get lazy and do not understand how important it is for our well-being to connect with God. To keep our self-motivated, we can maintain a prayer list. We can add all the things we want to pray for a day. We can even set up reminders for us. It will not only help us to be punctual but it will also make us more vigilant.
Preview and Details of Template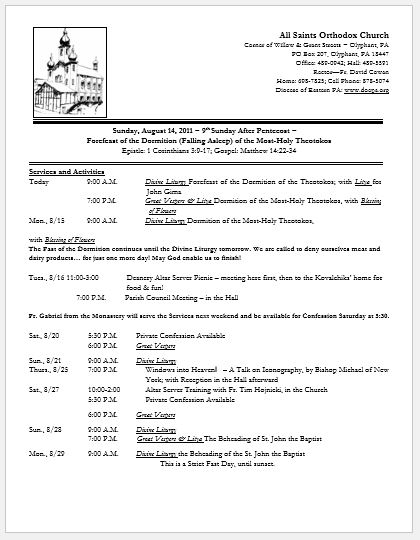 Prayer List Template
File: Word (.doc) 2003+ and iPad 
Size 215 Kb | Download
---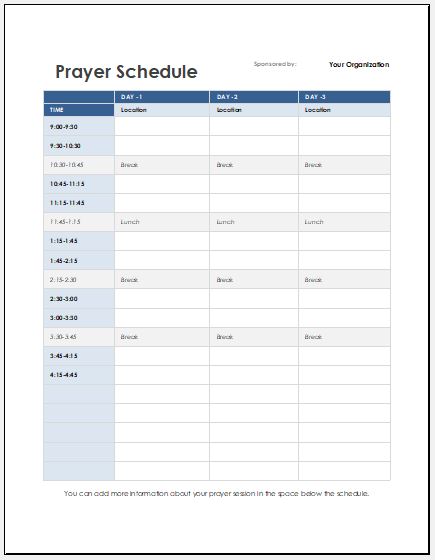 Prayer Schedule Template
File: Excel (.xls) 2003+ and iPad 
Size 18 Kb | Download