Change is a fundamental part of everyday life. Things can change in numerous ways like people's changes, weather changes, mood changes, environmental changes, advancement changes, and technology changes. Above all, it is a steady fact that keeps on occurring.
Changes occur at various times in the workplace. Such changes need to be notified for being effective. The notifications must be announced categorically as per the set mores. It should be made sure that the notification is being delivered to the whole crew on time. If notifications announcement is done through proper channels it shows clear efficacy.
Moreover, all the employees must keep in view such notifications regarding their workplace. This creates a well-managed and fruitful environment for the employer and employees. Such cooperation from both ends gives outstanding results which in return gives a higher yield annually. And, the good turnovers are useful for both the owners and employees. Employees get bonuses and the employer gets the profitability and a good reputation.
Many times, a workplace needs to change office hours. Such hour change can cover different reasons. Sometimes weather type becomes the reason for changes in-office hours. Some unexpected situation becomes the reason for changes in the office hours.
The employer must be polite while announcing the notification of changes in-office hours. The employees must ask about the comfortability of the staff. The details must be mentioned about the old timings and new timings. The details about the concerned reasons for changes must be stated.
Office Hours Reduced
Please be advised that we are writing this letter to inform you about the change in working hours. Due to the pressing winters and the poor travel conditions, we have taken the decision to reduce the office hours to seven every day. These changes in hours will be in action from the start of next week and will remain the same till winter.
We would also like to add that these changes in hours will not have any impact on the wages as these hours are just temporary. The supervisors have been informed about the change in hours. Any relevant concerns can be communicated to the supervisors.
With thanks.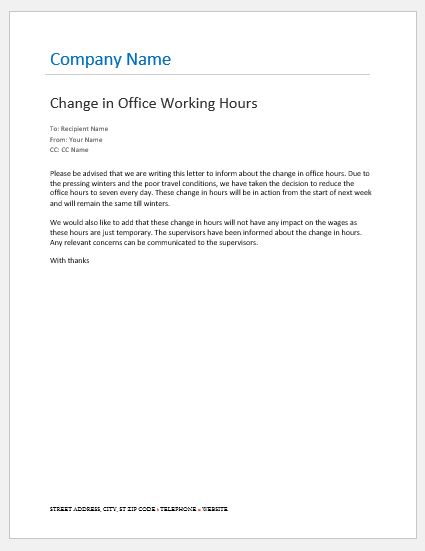 File: Word (.docx)
Size 24 KB
Office Hours Rescheduled
Dear Staff, from May 9, 20XX, onwards, our professional hours will be altered to the timetable below. We are sorry for any inconvenience this may root to our clients and escalate your indulgence in this regard. These new initial hours replace any opening hours specified on prior works you may have.
New Business Hours:
Monday ~ Thursday: 11:00 AM ~ 4:30 PM
Friday: 9:00AM ~ 1:30PM
This message should be viewed as a recognized modification to your rapports and conditions of service, all other standings and settings will persist as per your current agreement for sure.
Please annotate that in line with the company's Supple Salaried and Dispensation Policy, this will be a perpetual conversion to your treaty of service and you have no impulse right to modify your former working outline. The firm also stashes the right to assess all stretchy working designs over time considering any changes to operative supplies and you will be referred if there are any projected deviations.
I do anticipate that the new working hours that have been settled for you, will be of use for both yourself and for the company.
You are supposed to sign and return the duplicate print of this letter by the 30th of May 20XX.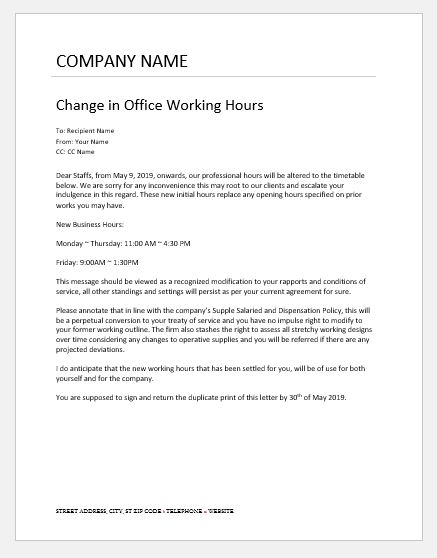 File: Word (.docx)
Size 24 KB
See also: