There is always a need of improvement in everything, whether it is an improvement in a meeting, a business, a product or even one's personality. Feedback is the response that we take from others. It is the views and thoughts that they give in response to the services that we offer them.
When we talk about the meeting feedback forms, you need to understand that there is a lot going on in a meeting. Everybody has a different caliber to understand things. While in a meeting, some information might not be conveyed properly, so forms are given to take the response and queries.
Need of the meeting feedback form:
The interaction and conveyance of information to every employee in a meeting are different but everyone has to understand what is happening there. The need of the form is:
To make sure that everyone gets the essential knowledge about the project
Everyone has understood all the basic requirements of the project or the task
The meeting should be informative and successful
Everyone should participate in it
The basic need of the form is to increase the interaction between the employer and the employees so that a streamlined flow of work is established. Beside this, there could be a lot of improvements that can be suggested by the employees. A healthy growth is only possible if all the employees are a part of it. Professional and multinational companies take a feedback from every employee after the meeting to work out their queries and improve the standards of the work.
Components of a meeting feedback from:
The essential components of the meeting feedback from are:
To ask whether the meeting was informative or not?
Suggestions to improve the future meetings
To ask the employees if they understood all the key points
To ask the reviews of the employees about the project
They can comment if they have any queries
They have to remain anonymous while filling out the forms
Companies don't mind that. All the professional companies release these forms to amend the faults in their working environment. These forms are a healthy approach towards the establishment and growth of a business.
If you are looking to get feedback about your meeting, a form designed by our professionals is given below for your convenience.
Preview & Details of Templates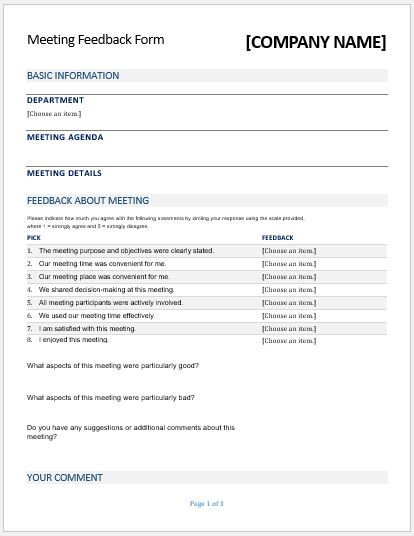 Meeting Feedback Form Template -1
File: Word (.doc) 2003+ and iPad
Size 36 Kb | Download
File: OpenOffice (.odt) Writer [writer]
Size 13 Kb | Download
License: ENERGY (Personal Use Only)
Distribution by Kate Elizabeth(CEO)
---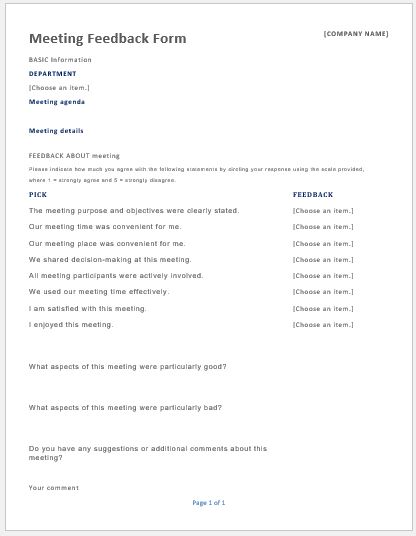 Meeting Feedback Form Template -2
File: Word (.doc) 2003+ and iPad
Size 31 Kb | Download
File: OpenOffice (.odt) Writer [writer]
Size 13 Kb | Download
License: ENERGY (Personal Use Only)
Distribution by Kate Elizabeth(CEO)